De la Toison au Tricot n° 34 : Ponette – l'histoire d'une toison

There's always one in very flock!
Mine is named 'TitBijou, an eye catching little ewe : cute, lively, and ever so endearing.
Il y en a toujours un dans chaque troupeau !
Chez moi, elle s'appelle 'TitBijou, une petite brebis attirante : mignonne, animée, et tellement attachante.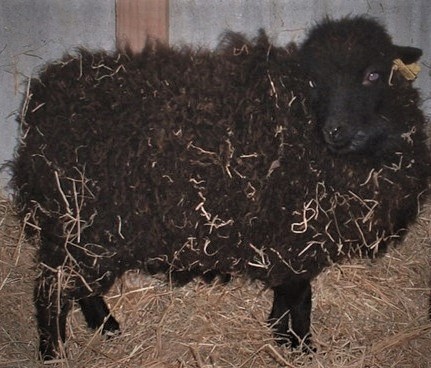 But her magnetic personality attracts more than just admiring glances! Most notably, she attracts an unbelievable amount of vegetable matter!
Yes, she's very cute! But considering the amount of hay and straw in her fleece, I really should have named her "Miss Velcro".
Next to the others, who stay generally quite clean, Miss Velcro is easy to spot!
What can I say? Nothing I can do about it … it's just who she is!
Mais sa personnalité magnétique attire bien plus que des regards! Notamment, elle attire une quantité de matière végétale inimaginable!
Oui, elle est très mignonne! Pourtant vu la quantité de foin et de paille qui se loge dans sa toison, j'aurais du la baptisée « Mlle. Velcro ».
À côté des autres qui restent en général bien propres, Mlle. Velcro se remarque facilement! Bon … rien à faire! C'est sa nature!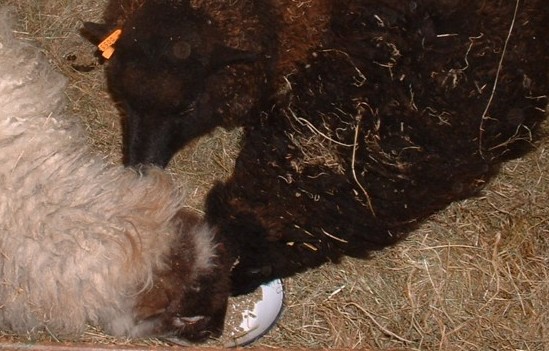 But there's always one in every flock, and it would seem that I've found the Miss Velcro of the Lutins du Montana. Her name is Ponette.
Mais il y en a toujours un dans chaque troupeau, et de toute évidence, je pense avoir retrouvé la «Mlle. Velcro» des Lutins du Montana. Elle s'appelle Ponette.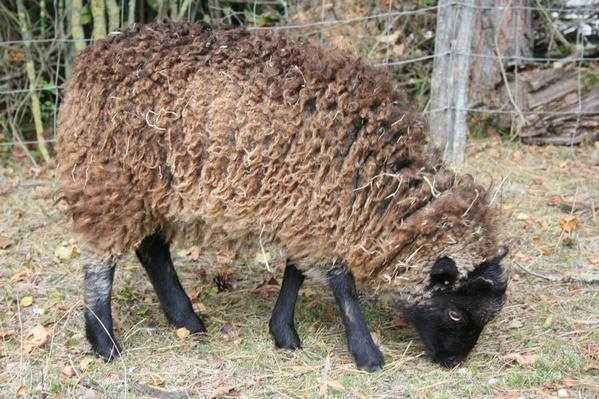 Such a stunning little beauty, this little eye-catching grey ewe!
But, her fleece attests to the fact that she attracts more than just admiring glances … despite the beautiful color of her fleece, her wool is quite literally chucked full of bits of hay and straw.
Et quelle beauté! Tellement attirante cette petite brebis grise !
Mais comme en témoigne sa toison, elle attire bien plus que de regards admiratifs … malgré sa couleur sublime, la toison de Ponette est littéralement bourrée de petites miettes de foin et de paille.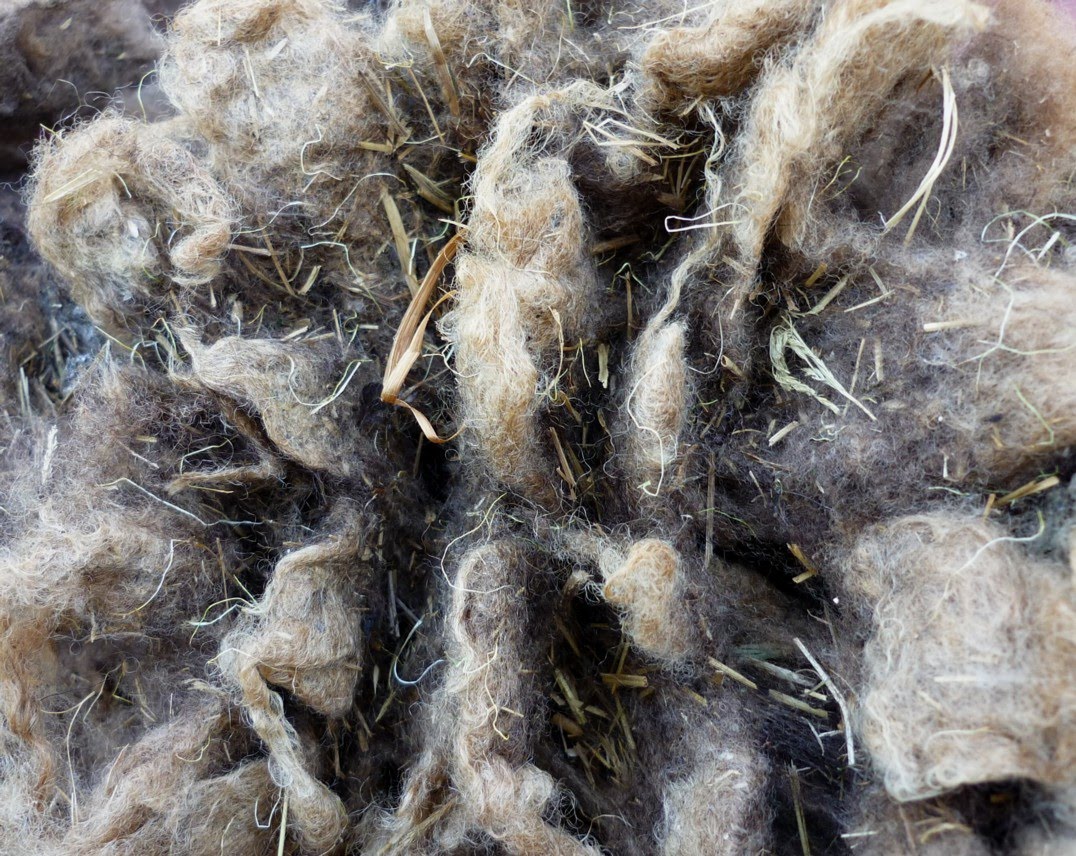 There was even a small stone in one lock !
Without a doubt this is just additional proof of her considerable powers in the realm of attraction !
Il y avait même un petit caillou logé dans une mèche !
Sans doute une preuve supplémentaire de ses pouvoirs considérables dans la domaine de l'attirance !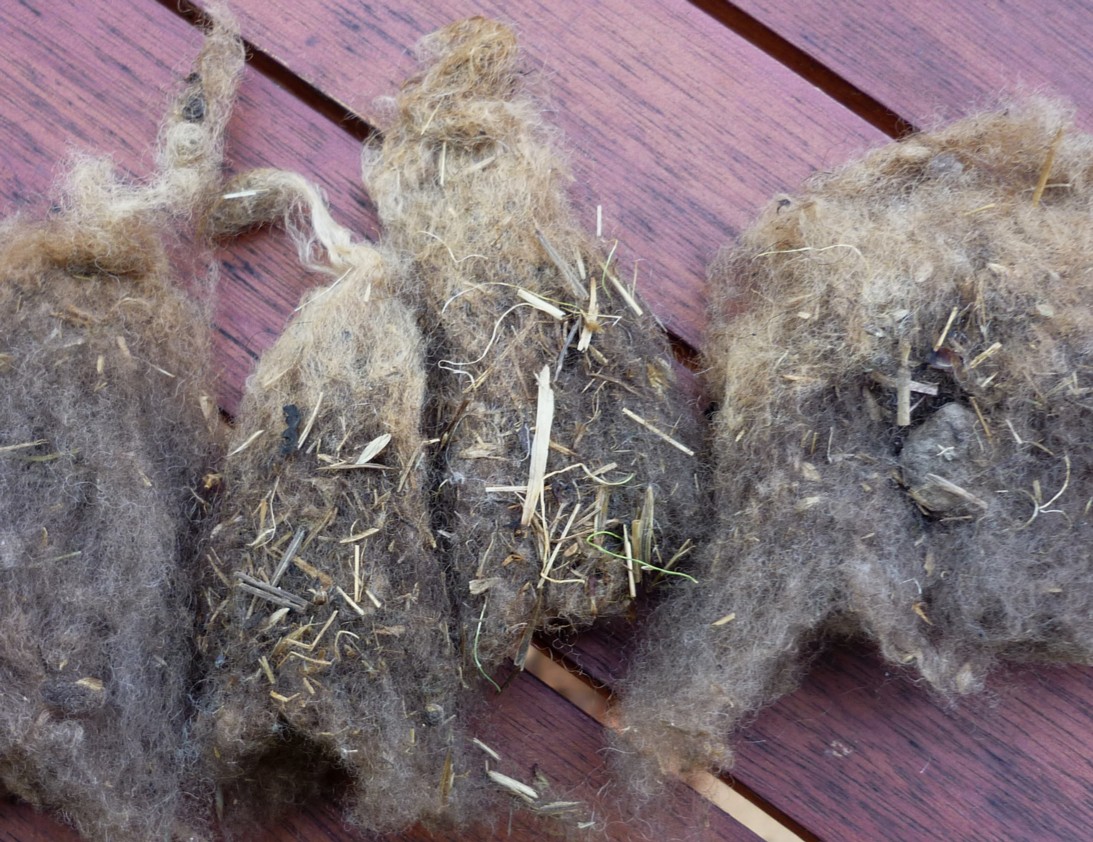 Unfortunately, for a spinner, this type of fleece is far from appealing. Normally this fleece would end up on the compost heap as it is impossible to work with a fleece with so much vegetable matter in it. At least that's what everyone says. And that's what I would normally say too. I have to admit that when I saw the amount of vegetable matter in this fleece I almost threw it on the compost. But then I heard a little sheep voice whisper in my ear : "Diane, I dare you to try to do something with my fleece !"
Okay, fine …. I'm game! Let's get to work !
Everyone says that wool combing is the only way of removing vegetable matter from a fleece. From my personal experience, I would say that this is true. But I have never tried to work with a fleece that had this much vegetable matter in it. Basically, I don't know if this is going to work or not. But there's only one thing to do : try my luck with my wool combs!
As with all the other fleeces, I soaked Ponette's fleece in rain water for one week. Then I dried the fleece.
To comb the wool I start by loading up the hackle. Note that the butt or cut side of the lock is attached to the hackle and the tips of the locks are all together.
Malheureusement, pour une fileuse, une telle toison est très loin d'être attirante. Normalement elle serait destinée au compost car c'est impossible de travailler une toison avec tellement de matière végétale. Au moins, c'est ce qu'on dit. Et c'est même ce que je dis, d'habitude. Il faut avouer, quand j'ai vu la quantité de matière végétale dans cette toison, j'ai failli la mettre sur le tas de compost. Mais cette fois ci, j'ai entendu une petite voix ovine qui me chuchotait à l'oreille : « Diane, je te défie de faire quelque chose avec ma toison! »
Bon, d'accord, défi lancé … défi relevé! Au boulot!
Tout le monde dit que le peignage est le seul moyen pour enlever de la matière végétale d'une toison. À mon expérience ça semble bien être le cas. Mais je n'ai jamais tenté de travailler une toison avec autant de matière végétale. Effectivement, je ne sais pas si ça va marcher ou non. Bref, il n'y a qu'une chose à faire : tenter ma chance avec mes peignes à laine!
Comme toutes les autres toisons, j'ai laissé tremper celle de Ponette dans l'eau de pluie pendant une semaine. Puis je l'ai laissé sécher.
Pour peigner la laine, je commence par charger le peigne fixe. Noter que le côté "coupé" de la mèche est attaché au peigne : tous les points de la toison sont ensemble.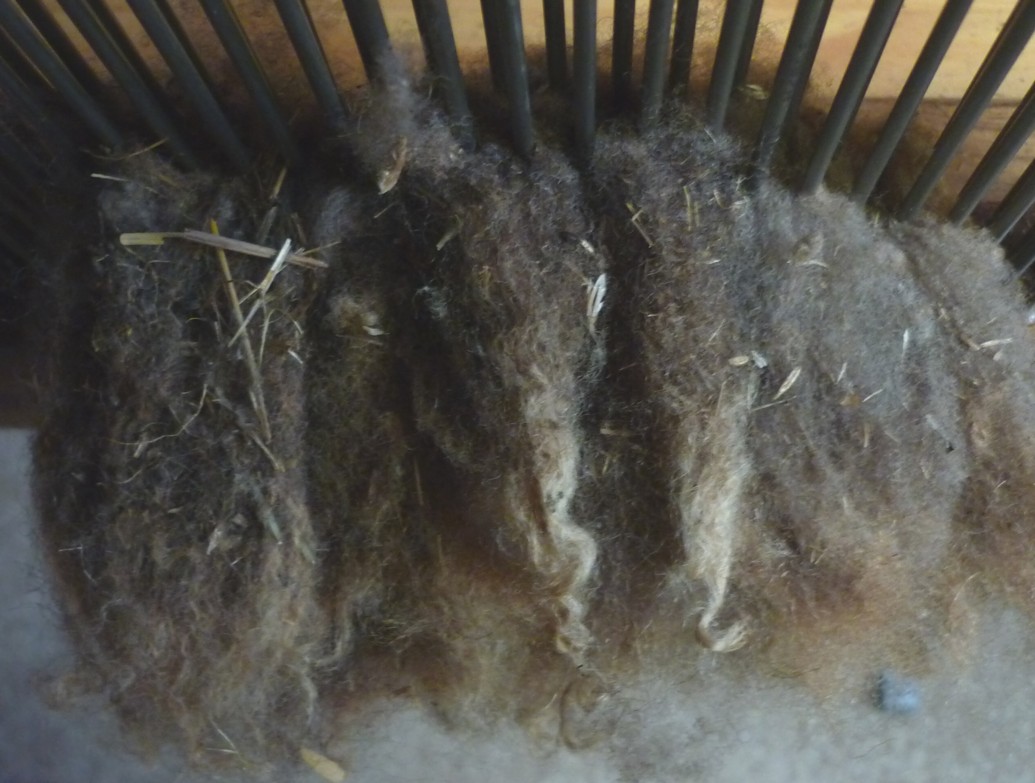 During the first pass, the wool on the hackle is transfered to the working comb. Already you can see the difference.
Lors du premier passage, la laine du peigne fixe est transférée au peigne de travail. Déjà, on voit une différence !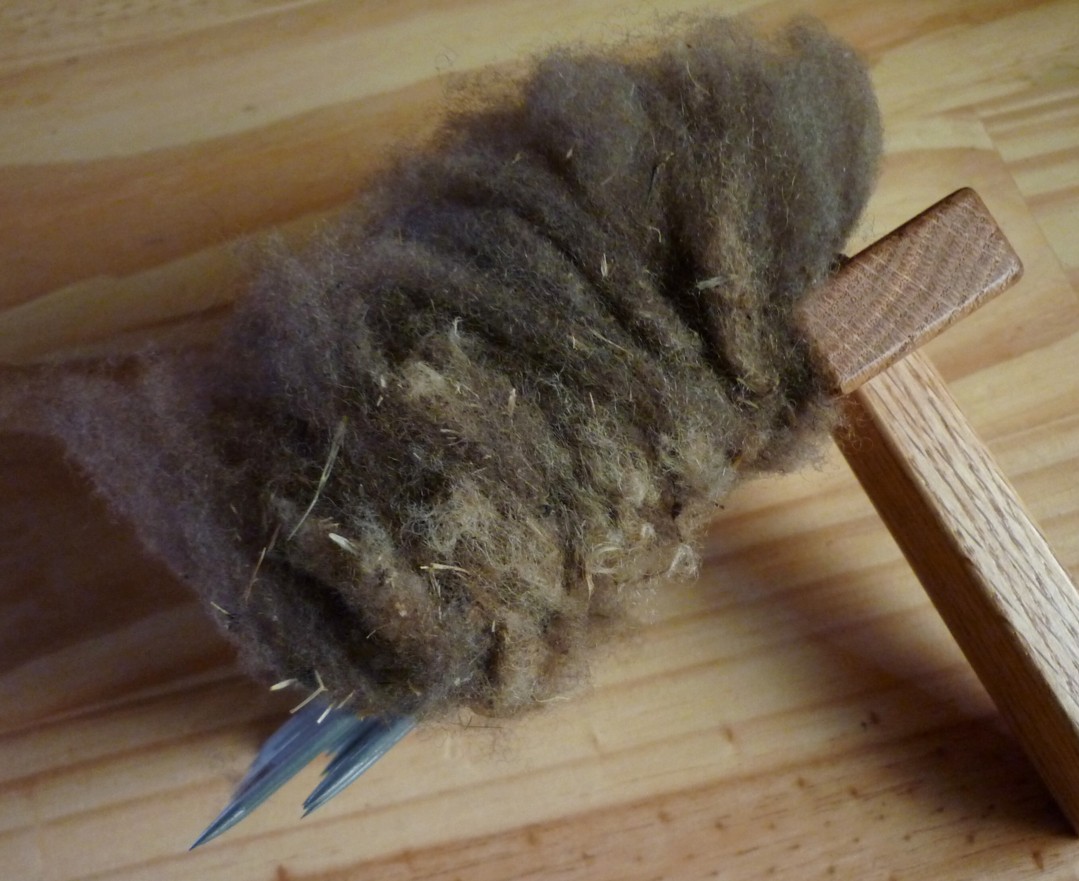 During the second pass, the wool goes from the working comb to the hackle.
What a difference! I have to say that normally I only make two passes when I comb wool, but Ponette's wool demands a bit more !
Lors du deuxième passage, la laine va du peigne de travail au peigne fixe.
Quelle différence! Il faut dire que normalement je ne fais que deux passages quand je peigne la laine, mais la laine de Ponette en exige d'avantage.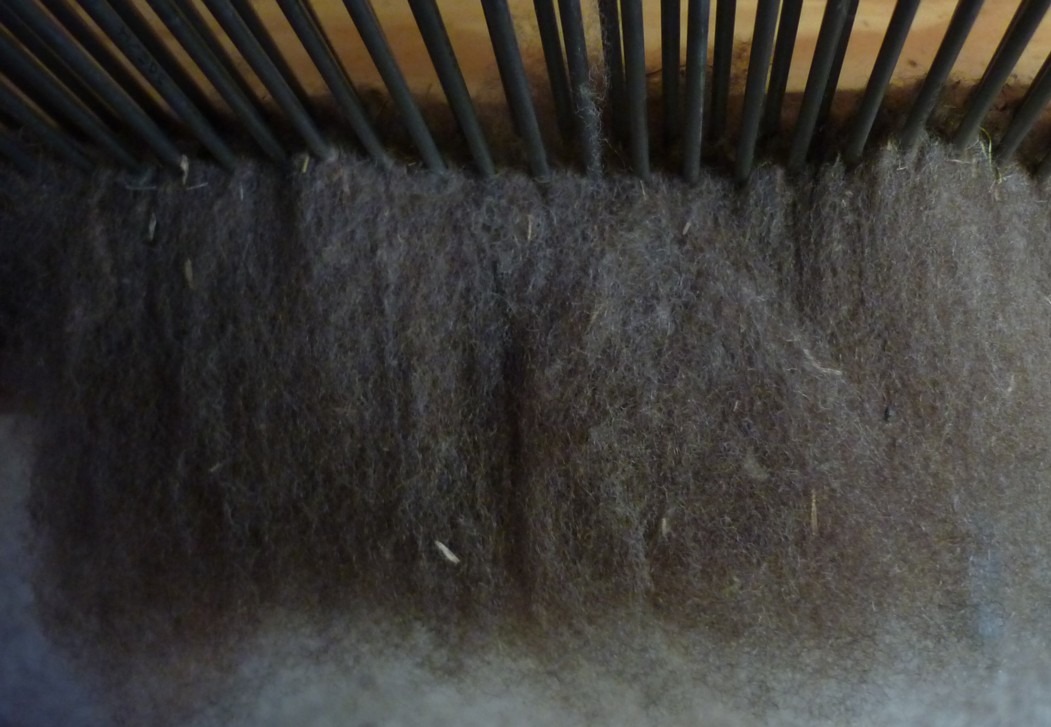 On the third pass, the wool again ends up on the working comb.
Au troisième passage la laine se retrouve de nouveau au peigne de travail.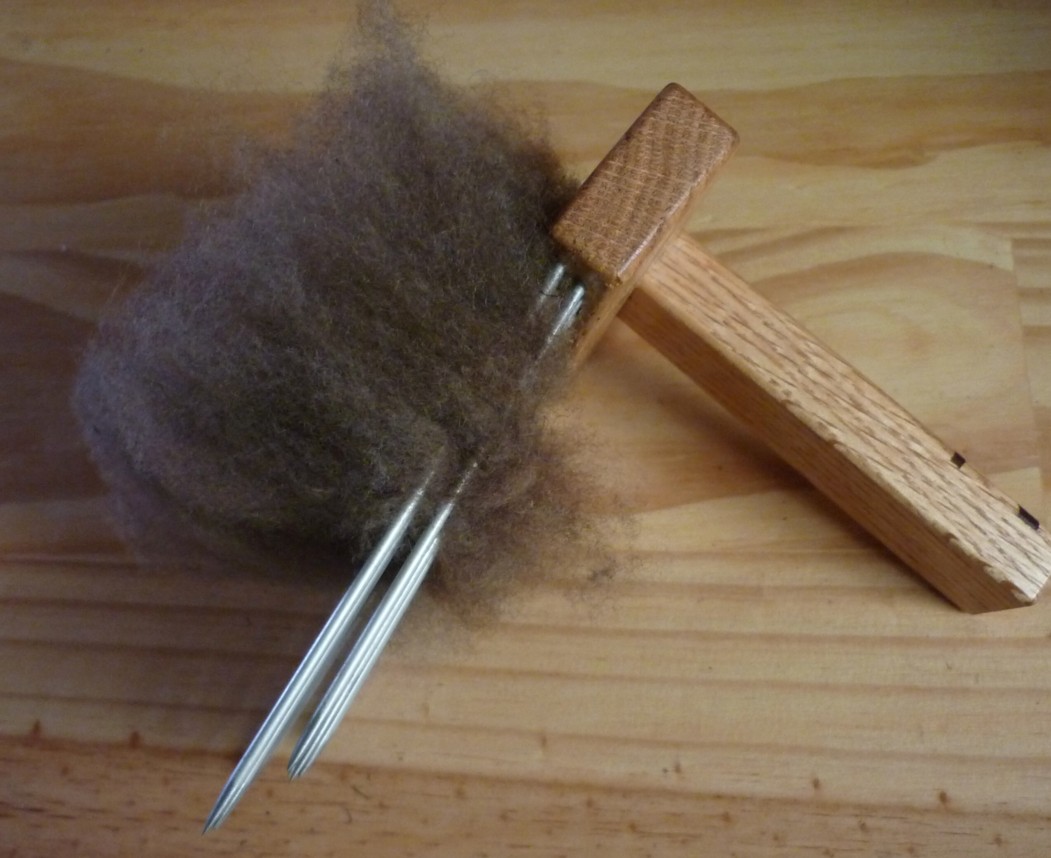 Finally, the forth pass.  The wool is now on the hackle.  It's clean & free of any vegetable matter.  All I have to do is pull the wool off of the comb.
Finalement, le quatrième passage.  La laine est au peigne fixe.  Elle est propre, sans matière végétale.  Il ne faut que retirer la laine du peigne.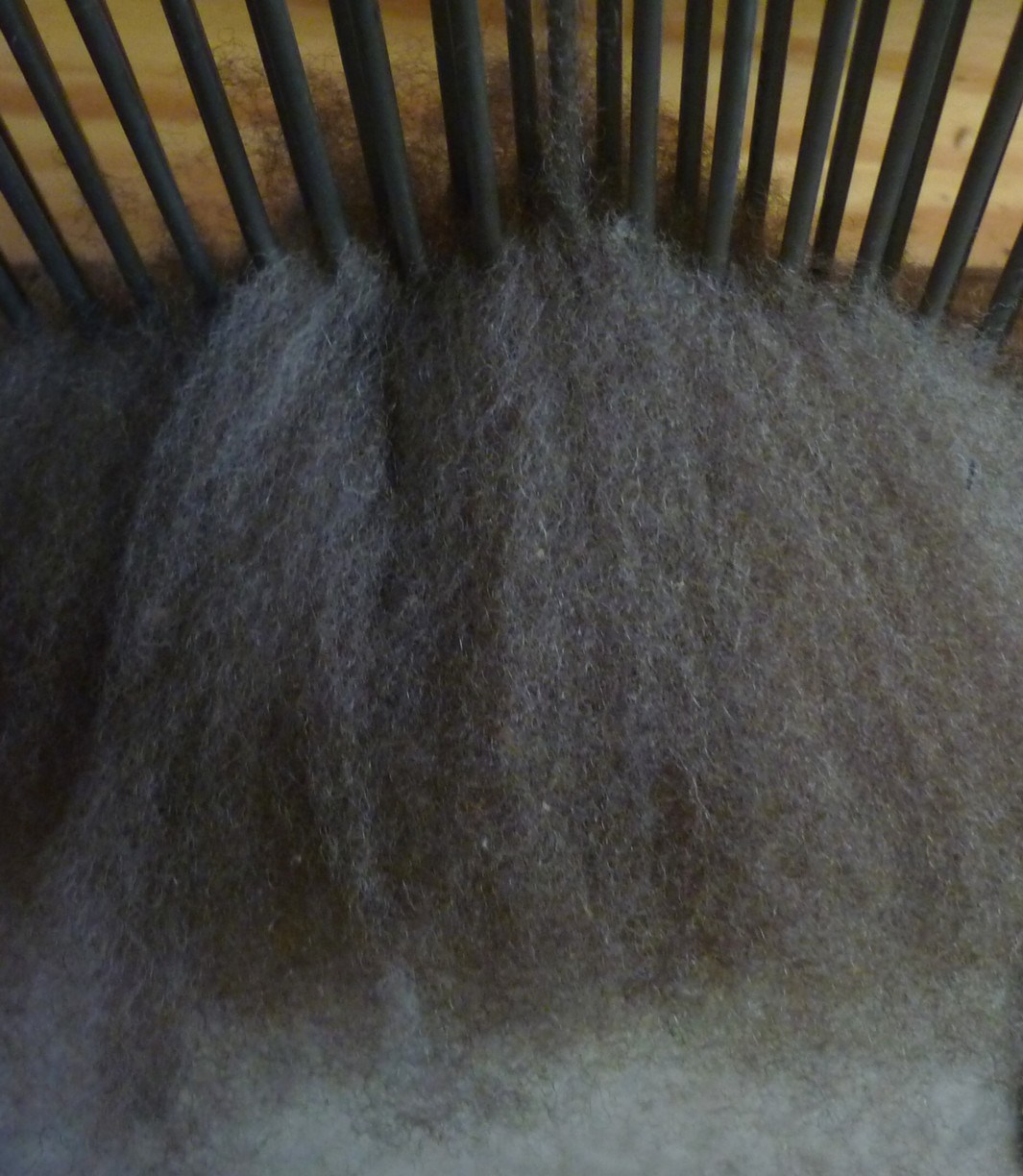 Fantastic!  It's just beautiful!
Who would have ever imagined ?
Magnifique ! Elle est vraiment belle !
Qui l'aurait cru ?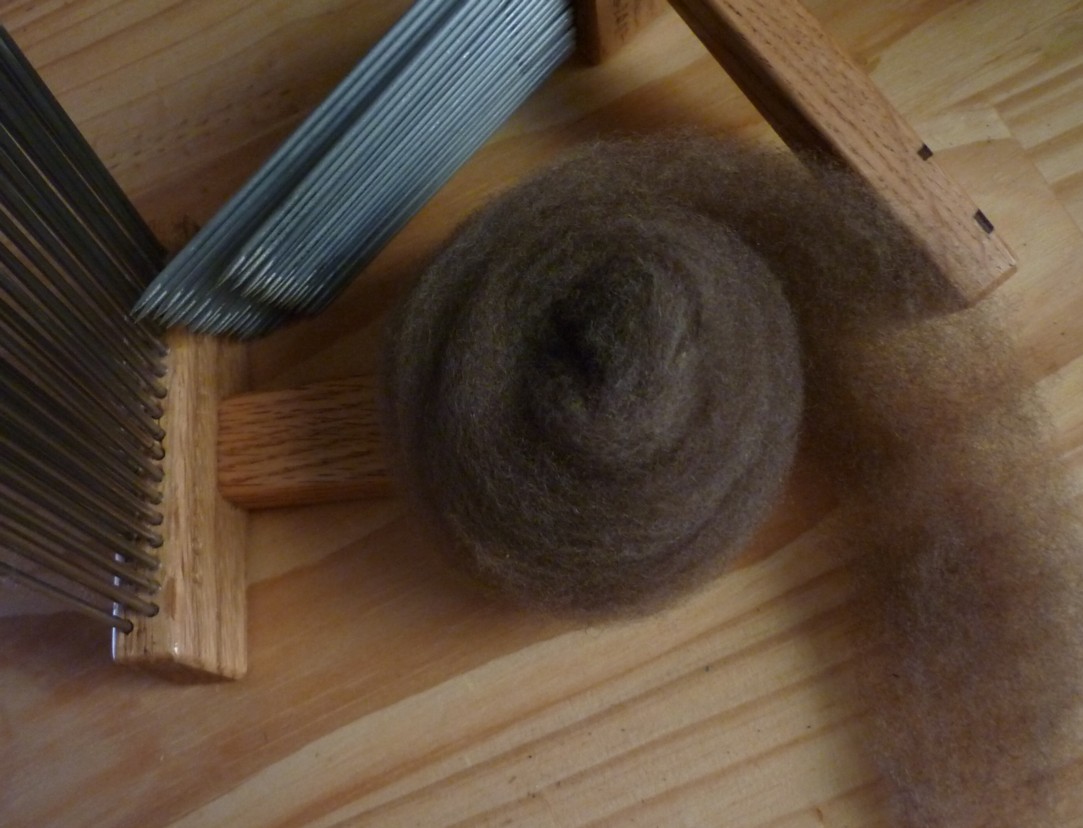 As you've seen, it's true that combing wool can remove vegetable matter from a fleece, even when we're talking about a lot of vegetable matter !
But careful now …. even if this combed wool is fantastic, its transformation has resulted in a huge loss of time and wool.
First it took me 2 to 3 times longer to prepare this wool than an equal amount of good quality wool.
But that isn't the worst of it! The actual yield is quite poor. As for Ponette's fleece, it weighed 600 grams before washing. It lost 25% of its weight, in other words 150 grams, during wasing. After combing, I only had 120 grams of combed wool and 330 grams of combing waste.
That's 73% waste for 27% combed wool!
C'est vrai, comme vous avez vu, le peignage de laine peut enlever la matière végétale d'une toison, même quand il s'agit d'une quantité importante.
Mais attention … même si cette laine peignée est magnifique, sa transformation a entraîné de grosses pertes de temps et de laine.
D'abord il faut compter entre deux à trois fois plus de temps pour travailler le même quantité de laine.
Mais ça ce n'est pas le pire. Le rendement est assez faible. En ce qui concerne la toison de Ponette. Elle faisait 600 grammes avant lavage. Elle a perdu 25% de son poids, c'est à dire 150 grammes, au lavage. Après peignage, il n'y avait que 120 grammes de laine peignée et 330 grammes de déchets de peignage.
C'est à dire 73% de déchets pour 27% de laine peignée!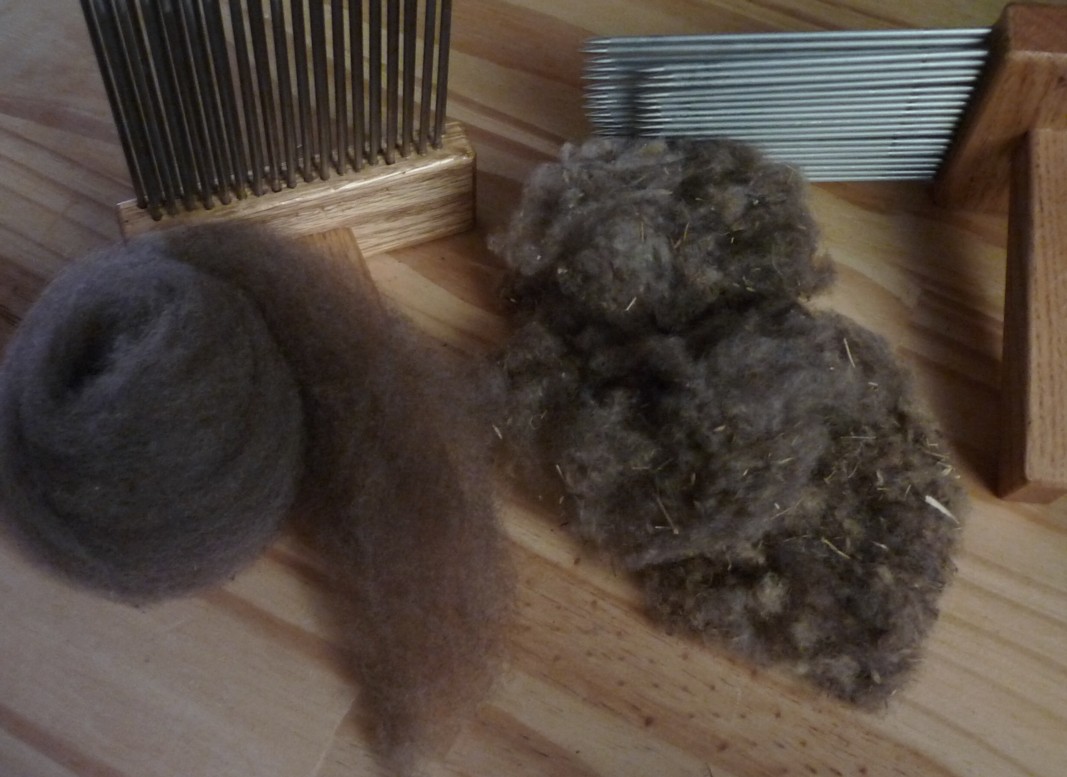 Not great!  It's a little like "Work more to get less !"
And to top it off, the combing waste has so much vegetable matter in it that it can't be used for any of my knit to felt projects.
That being said, without combing, all of this fleece would have ended up on the compost heap !
So then, is it worth the effort to work with a fleece that has so much vegetable matter in it ?
I suppose that it depends on a lot of things. As for me, I'm really happy that I took the time to process Ponette's fleece.
With the 120 grams of combed fiber I was able to complete 3 small knitting projects. First I used 14 grams for a knit hat in all natural ouessant colors. Then I knit a lovely little lace scarf with 48 grams of yarn. Finally, with the remaining wool, I spun a fine 2-ply yarn (450 metres/100 grams) for a small lace shawl.
C'est pas terrible! Un peu du genre « Travailler plus pour en avoir moins ! »
En plus, ces déchets de peignage avec autant de matière végétale ne peuvent pas être utilisés dans les projets de feutrage.
Ceci dit, sans peignage l'ensemble de cette toison aurait été jeté au tas de compost.
Alors, est-ce qu'il vaut le coup de travailler une telle toison ?
Je suppose que ça dépend. Quant à moi, je suis très contente d'avoir pris le temps de travailler la toison de Ponette. Avec les 120 grammes de laine peignée de la toison de Ponette, j'ai fait trois petits projets de tricot. D'abord j'ai utilisé 14 grammes pour un bonnet aux couleur naturelles. Puis, j'ai fait une jolie petite écharpe en dentelle avec 48 grammes. Finalement, avec la laine qui restait, j'ai fait un fil à 2 brins, assez fin (450 mètres/100 grammes) pour faire un petit châle en dentelle.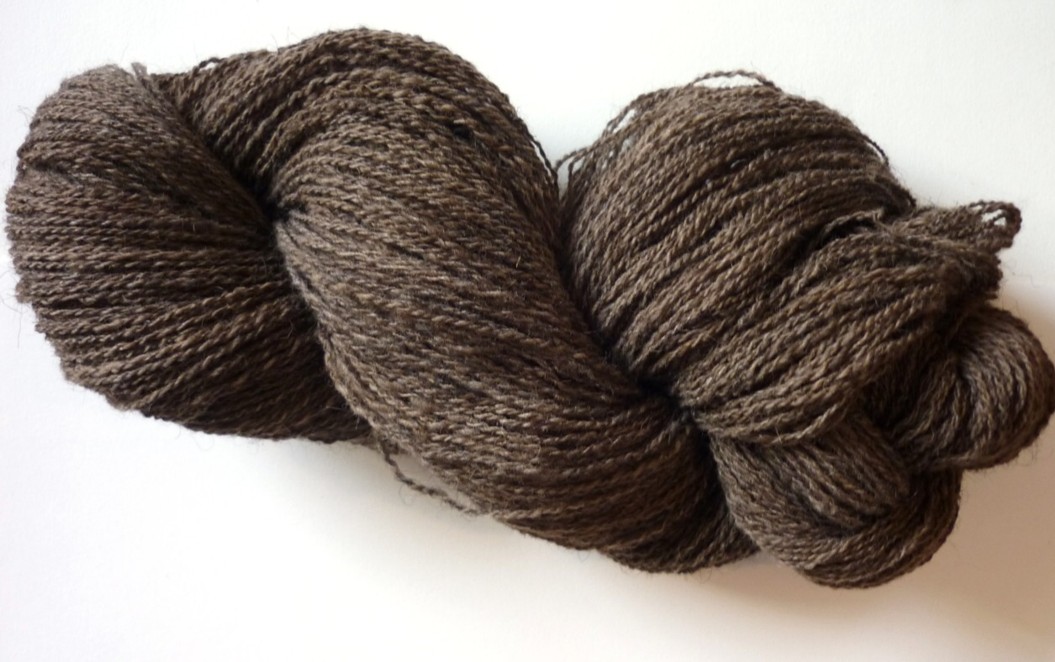 I used the "Swallowtail" pattern by Evelyn Clark.
And here it is. It is 44″ wide and 22.5″ wide. And it only weighs 58 grams.
J'ai utilisé le modèle « Swallowtail » de Evelyn Clark.
Le voilà ! Il mesure 110cm x 57cm et ne pèse que 58 grammes!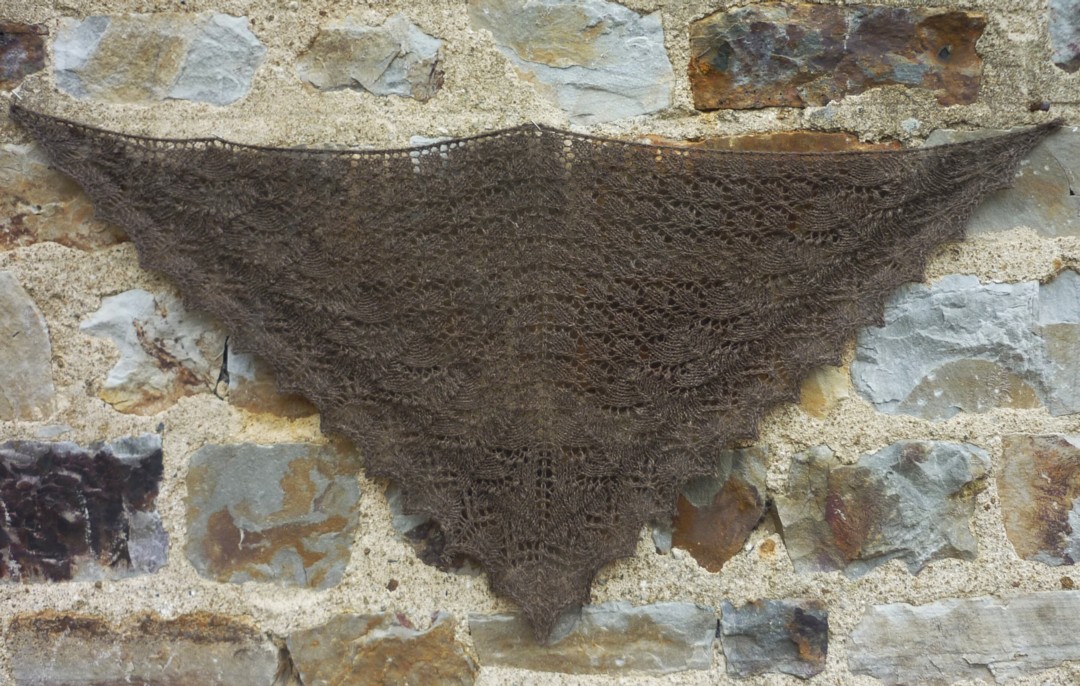 And again … this time backlit.
Et encore … cette fois ci à contre-jour.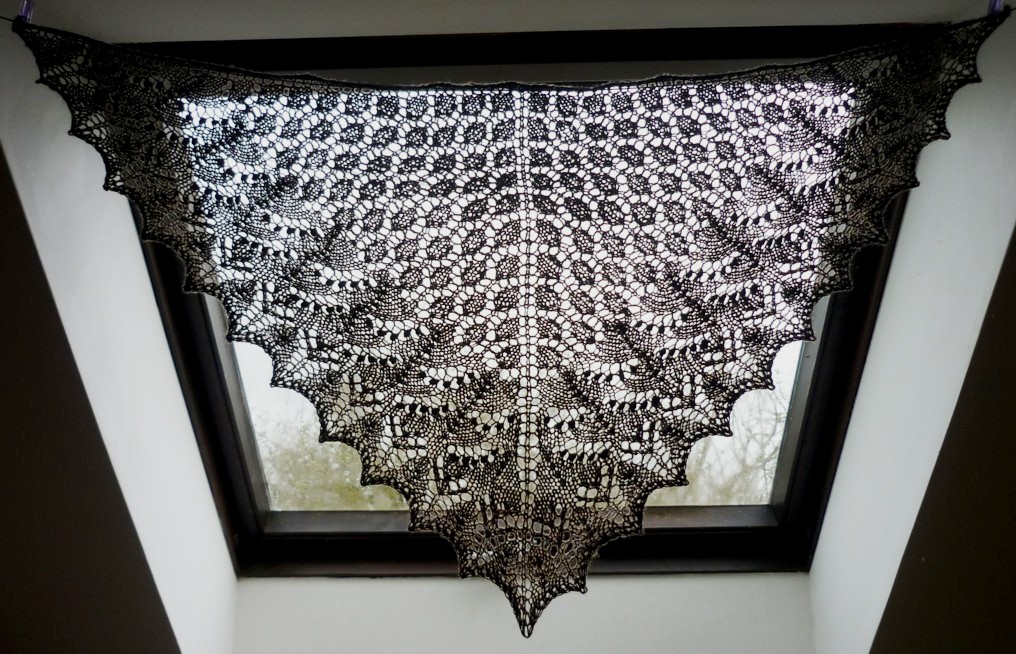 A close-up of the shawl edge …
Un gros plan du bord du châle ….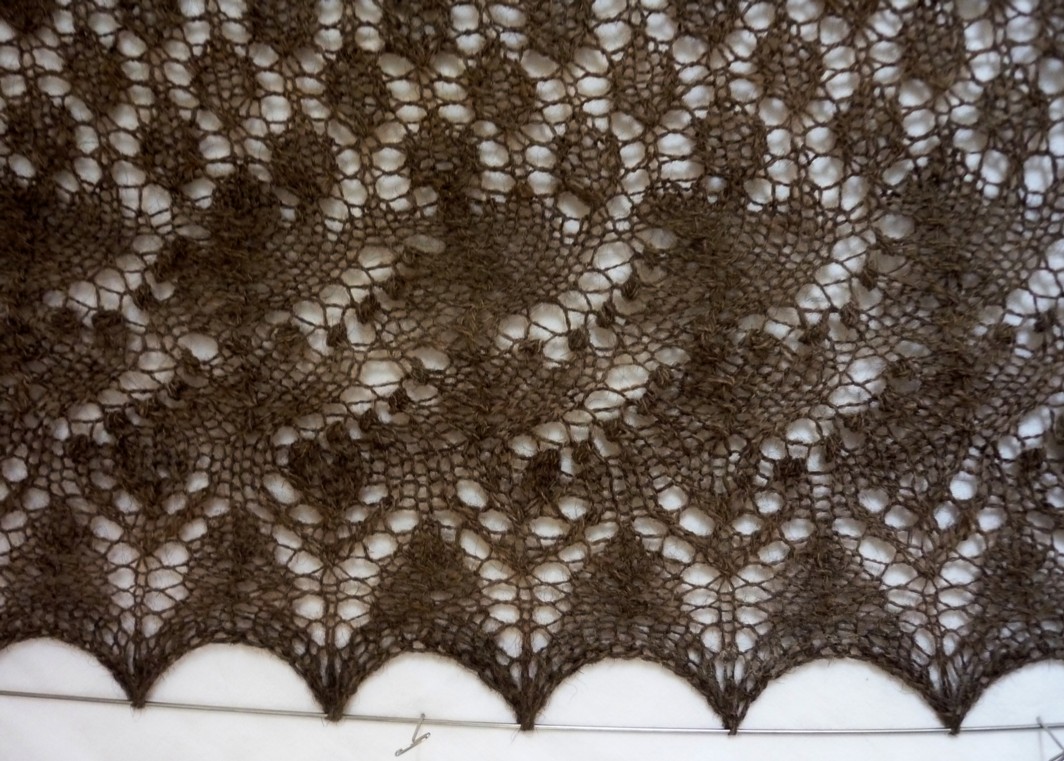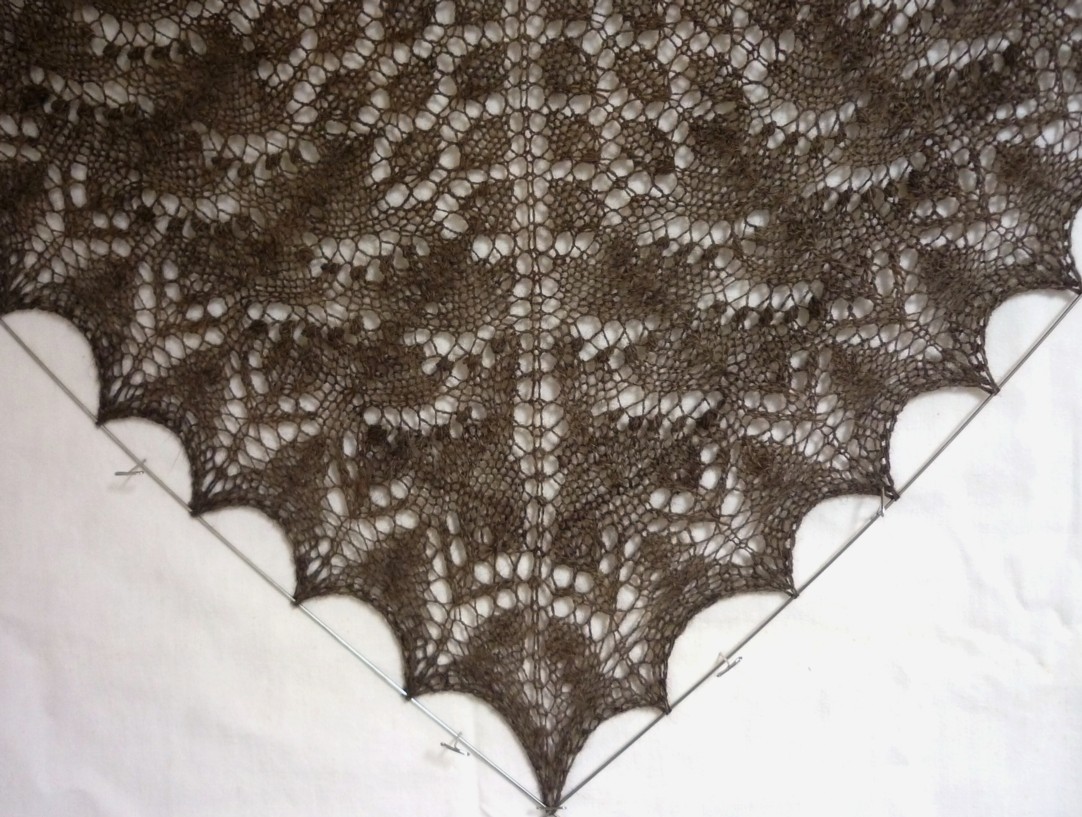 The entire contents of the SpinningShepherd.com © Copyright 2008-2021. 
Text and photographs may not be published, broadcast or redistributed
without the express permission of the author/owner.