De la Toison au Tricot n° 187 : Une mèche peinte à la main

As a general rule, I work almost exclusively with Ouessant wool. Of course, I do buy other fibers such as silk, alpaca, or flax. But when it comes to wool, I use the wool produced by my own flock.
But … you know … from time to time, it just so happens that I do buy wool. But when I do, it has to be something extraordinary that I just can't resist.
At the 9th World Congress on Colored Sheep, which was held in Italy in 2019, I found this beautiful hand-painted top. I was absolutely taken by it : I just couldn't resist.
En règle générale, je travaille quasi exclusivement avec la laine Ouessant. Certes, j'achète d'autres fibres telles que la soie, l'alpaga, ou le lin. Mais, quand il s'agit de la laine, c'est celle de mon propre troupeau.
Pourtant … pourtant … de temps en temps, ça m'arrive d'acheter d'autres laines …. Toutefois, il s'agit de quelque chose d'extraordinaire à laquelle je ne peux pas résister.
Lors du 9ème Congrès Mondial sur le Mouton de Couleur qui a eu lieu en Italie en 2019, j'ai trouvé ces belles mèches peintes à la main. J'étais tout à fait séduite et je ne pouvais pas résister.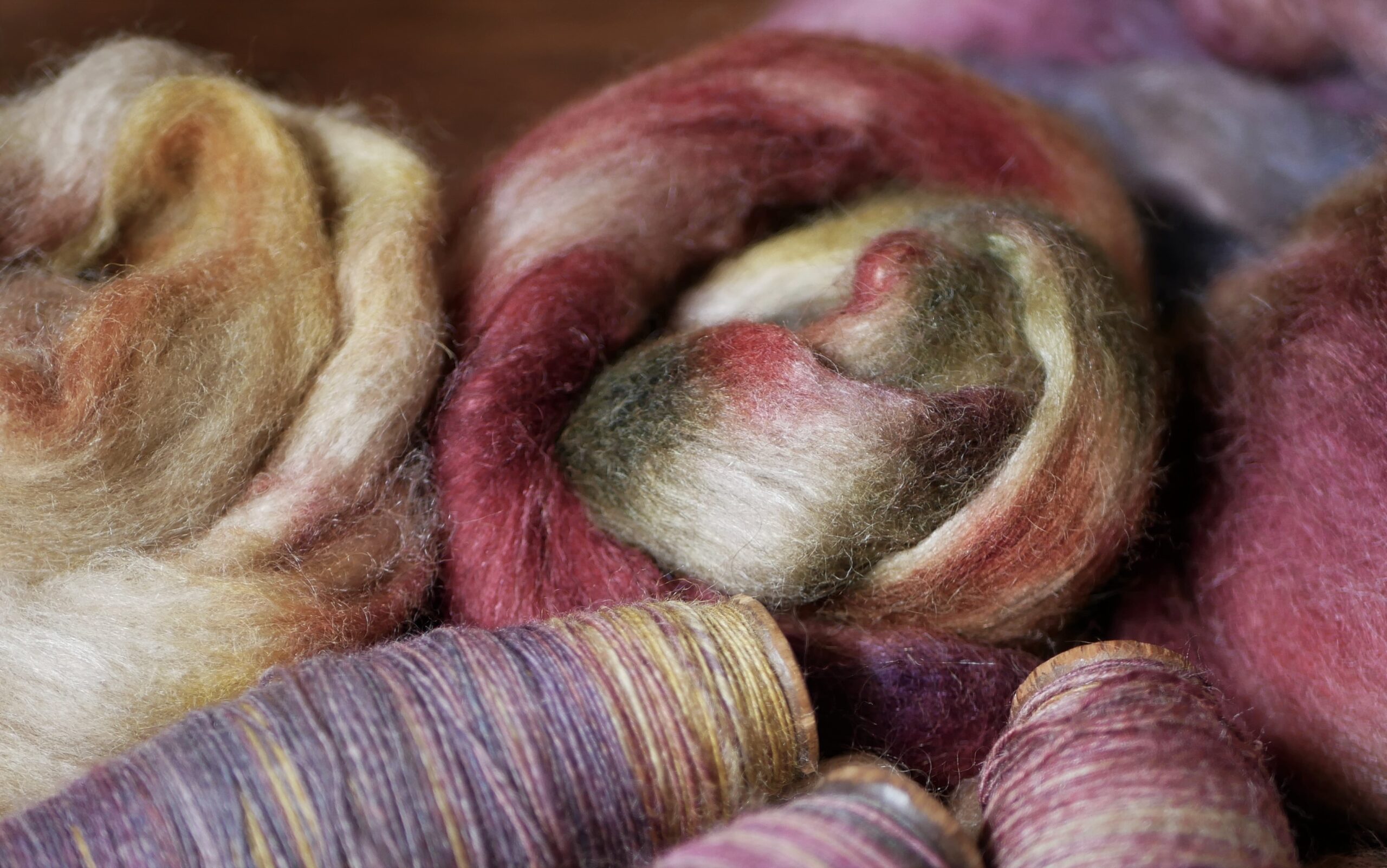 First, let's talk about this particular blend of fiber. It's a perfect marriage of Corriedale wool (70%) and suri alpaca (30%). I can't get over just how exquisite this blend is.
As for the colors, Helen at Waratah Fibres has created a palette of soft colors from nature that sparks the Spinning Shepherd's imagination : red raspberries, green moss, delicate periwinkles, and shimmering sand all dappled in rays of sunshine. Impossible to resist.
D'abord il faut parler de ce mélange de fibres. C'est un beau mariage de laine Corriedale (70%) et d'alpaga suri (30%). C'est tellement exquis que je n'en reviens pas !
Quant aux couleurs, Helen à Waratah Fibres a créé une palette de couleurs aux douceurs de la nature qui fait rêver la bergère-filandière : quelques framboises, de la mousse, un peu de sable, des pervenches, et quelques rayons de soleil. Bref, impossible d'y résister.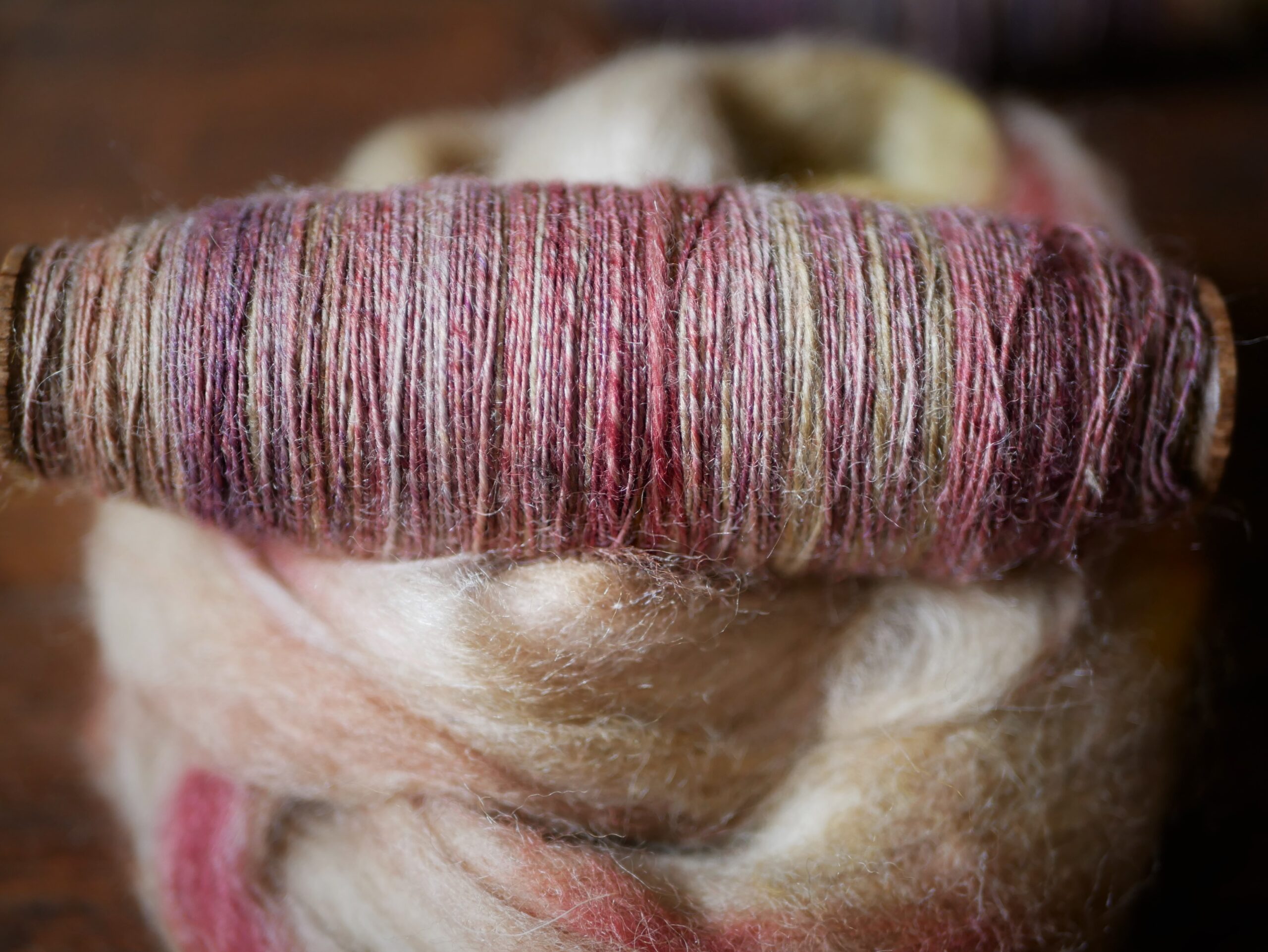 You can find Helen's beautiful work at Waratah Fibres. Note that if you are ordering from outside of Australia, you will need to email Helen via her site and she will send you a PayPal invoice.
I still haven't decided what I'm going to do with this wool. But we'll see !
… to be continued …
Vous pouvez trouvez le magnifique travail de Helen à Waratah Fibres. Noter : Pour commander hors Australie, il faut la contacter sur son site et elle vous enverra une facture par PayPal.
Je n'ai pas encore décidé ce que je ferai avec cette laine. On verra !
… à suivre …
The entire contents of the SpinningShepherd.com © Copyright 2008-2021. 
Text and photographs may not be published, broadcast or redistributed
without the express permission of the author/owner.