I have to admit that as a general rule, I usually only share with you the more positive aspects of raising sheep and working with wool.
To a certain extent, that's only to be expected. After all, it's better to look for the positive in life.
However, it's not possible or even desirable to always look at the world through rose colored glasses. As life is filled with many ups and downs for both sheep and people.
And, unfortunately, as they say, death is the only certainty in life. This is equally true for both sheep and man.
Currently, I have a certain number of geriatric sheep in my flock.
To be quite honest, these most senior members of my flock are also my most cherished animals. I have shared many years of my life with these animals and over time, a real bond has been established between the shepherd and each one of her sheep. As such, I feel a real sense of obligation to keep and care for each of these dear friends until the very end.
Yet sooner or later, the inevitable happens. And it's always the worst thing.
Unfortunately, in April 2020, my beautiful Carmel died. He was 12 years old.
Il faut admettre qu'en règle générale, je ne vous raconte que des aspects plutôt positifs sur l'élevage des moutons et le travail de la laine.
D'une certaine façon, c'est normal. Après tout, il vaudrait mieux voir le positif dans la vie.
Pourtant, "voir la vie en rose" n'est pas toujours possible, ni souhaitable. La vie, autant pour les moutons que pour les hommes, est remplie d'aléas.
Et malheureusement, comme on le dit : La mort est la seule certitude dans la vie. C'est vrai pour les hommes et pour les moutons.
Actuellement, j'ai un certain nombre de moutons gériatriques au sein de mon troupeau.
À vrai dire, les doyens du troupeau me sont les plus chers. Ce sont des animaux avec qui j'ai partagé un joli bout de temps. À travers les années, un lien se tisse entre la bergère et chaque mouton. En tant que tel, je me sens obligée de garder et de soigner ces chers « amis » jusqu'au bout.
Pourtant, tôt ou tard, l'inévitable arrive. Et c'est toujours la pire chose.
Malheureusement, en avril de 2020, mon beau Caramel est mort à 12 ans.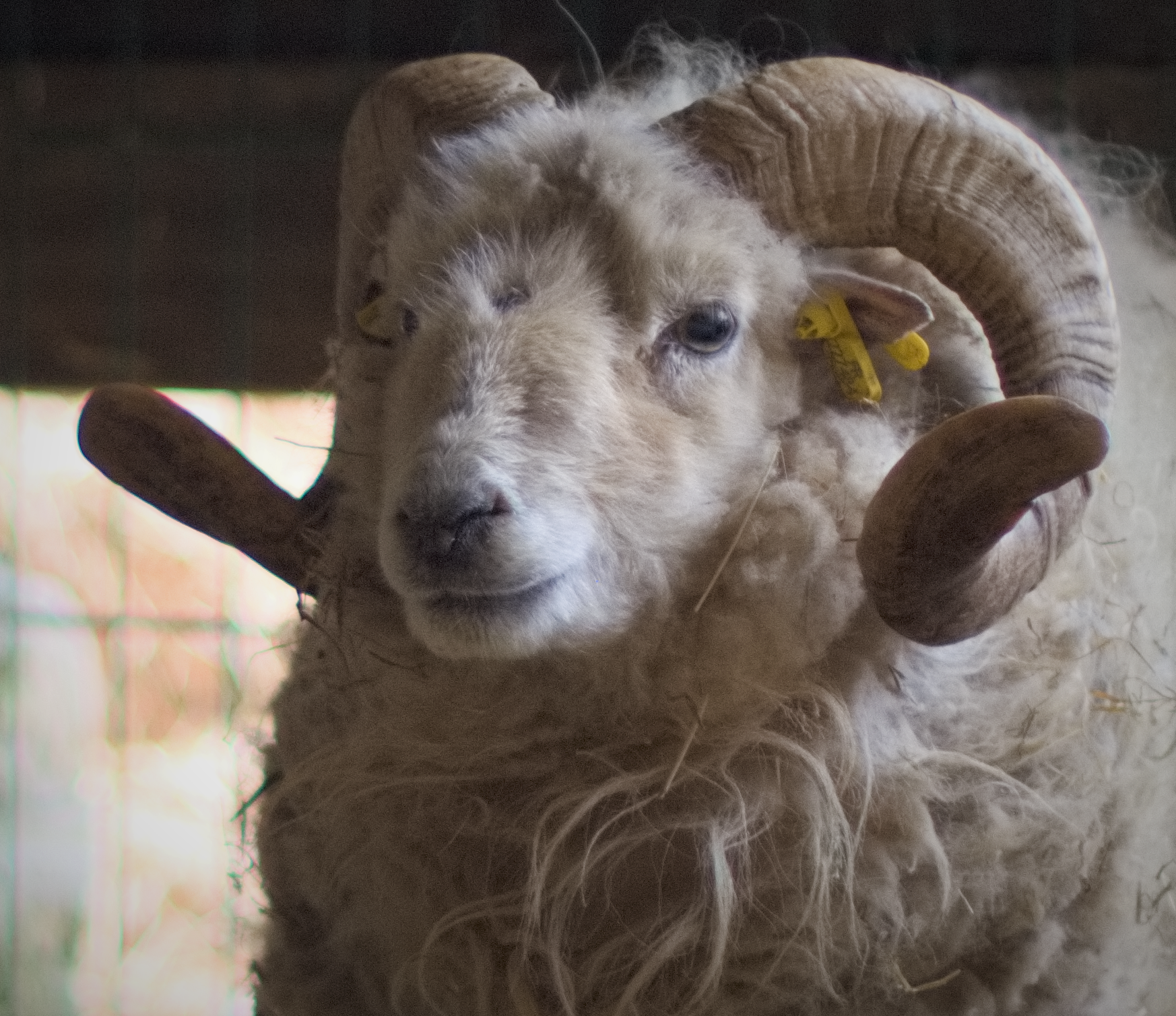 Caramel's death was almost predictable as he had been in declining health for just over 2 years, despite all my efforts to keep him going.
To be quite honest, Caramel's death made me extremely sad as he was one of my favorite animals. Additionally, Caramel, as well as his half-sister, 'TitBijou, represent the genetic foundation of my flock and my work on the Saint Symphorien line of Ouessant sheep.
In spite of my sadness over the loss of Caramel, I am above all grateful for everything that Caramel has brought to my flock.
Since 2016, Caramel has produced 7 beautiful ewe lambs and 3 beautiful ram lambs, the last of which was born just a few months after his father's death.
La mort de Caramel était presque prévisible car il était en déclin depuis plus de 2 ans malgré mes efforts pour le maintenir en vie.
Effectivement, la mort de Caramel m'a beaucoup attristé car il m'était un animal particulièrement cher. Caramel, ainsi que sa demi-soeur, 'TitBijou, représentent la base génétique de mon troupeau où je travaille sur la lignée Saint Symphorien chez le mouton d'Ouessant.
Pourtant, malgré la tristesse d'avoir perdu Caramel, je suis surtout pleine de reconnaissance et de gratitude pour tout ce qu'il a apporté au troupeau.
Depuis 2016, Caramel m'a fait 7 belles agnelles et 3 beaux agneaux, dont le petit dernier né quelques mois après la disparition de son père.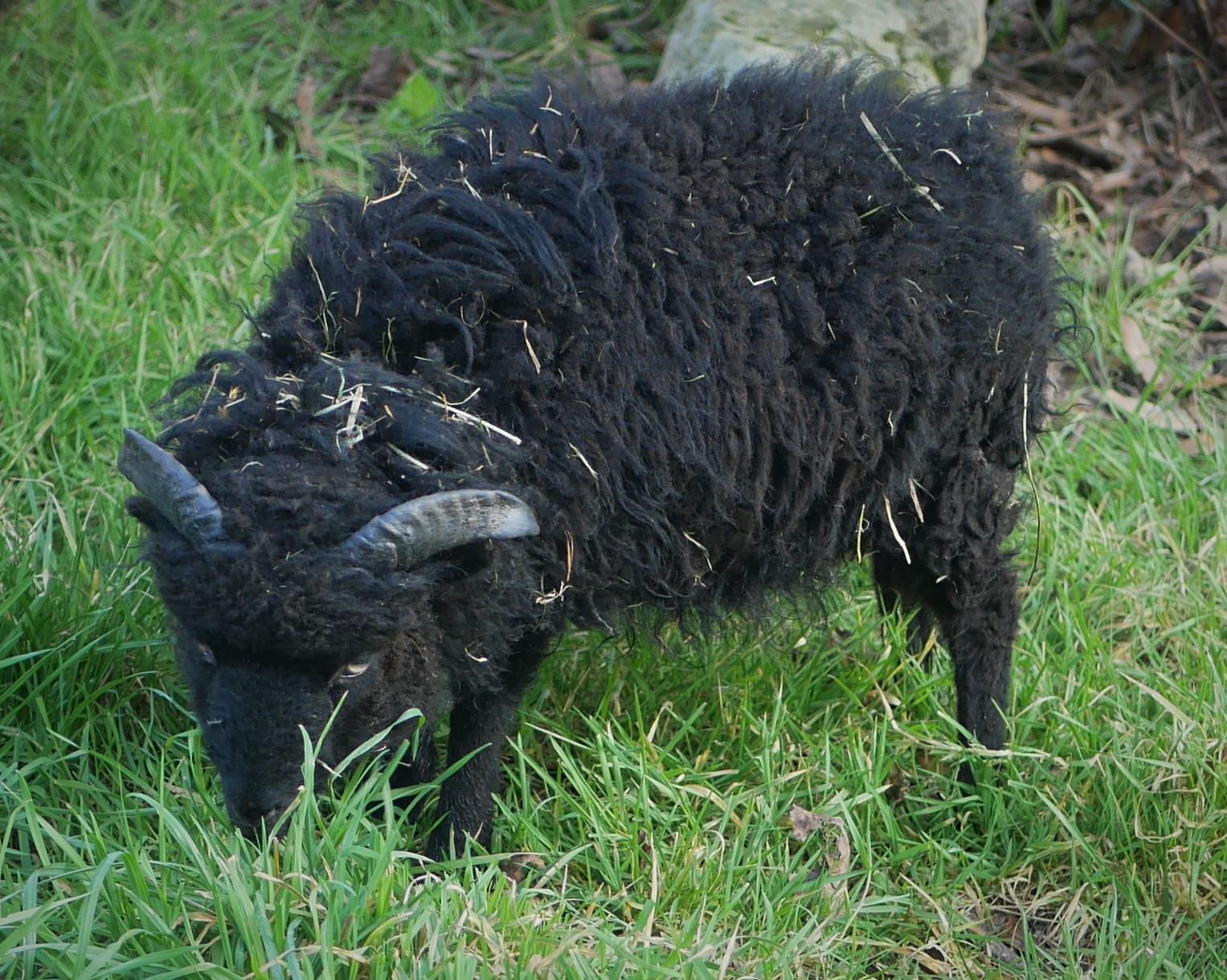 'TitCadeau,** posthumous progeny of Caramel, is my dream lamb come true.
For the past 4 years I have been trying to produce a black Caramel, but without any success. With the birth of 'TitCadeau, it's as though Caramel gave me the most precious parting gift.
I am truly grateful for this wonderful 'TitCadeau.
** 'TitCadeau means "Little Gift" in French
Pour moi, 'TitCadeau, fils posthume de Caramel, est un agneau de rêve.
Depuis plus de 4 ans j'ai essayé de faire un Caramel noir, sans succès. 
Alors, je considère que ce petit dernier né de Caramel est le cadeau de départ qu'il m'a offert.
Je ne peux qu'être très reconnaissante pour ce joli 'TitCadeau.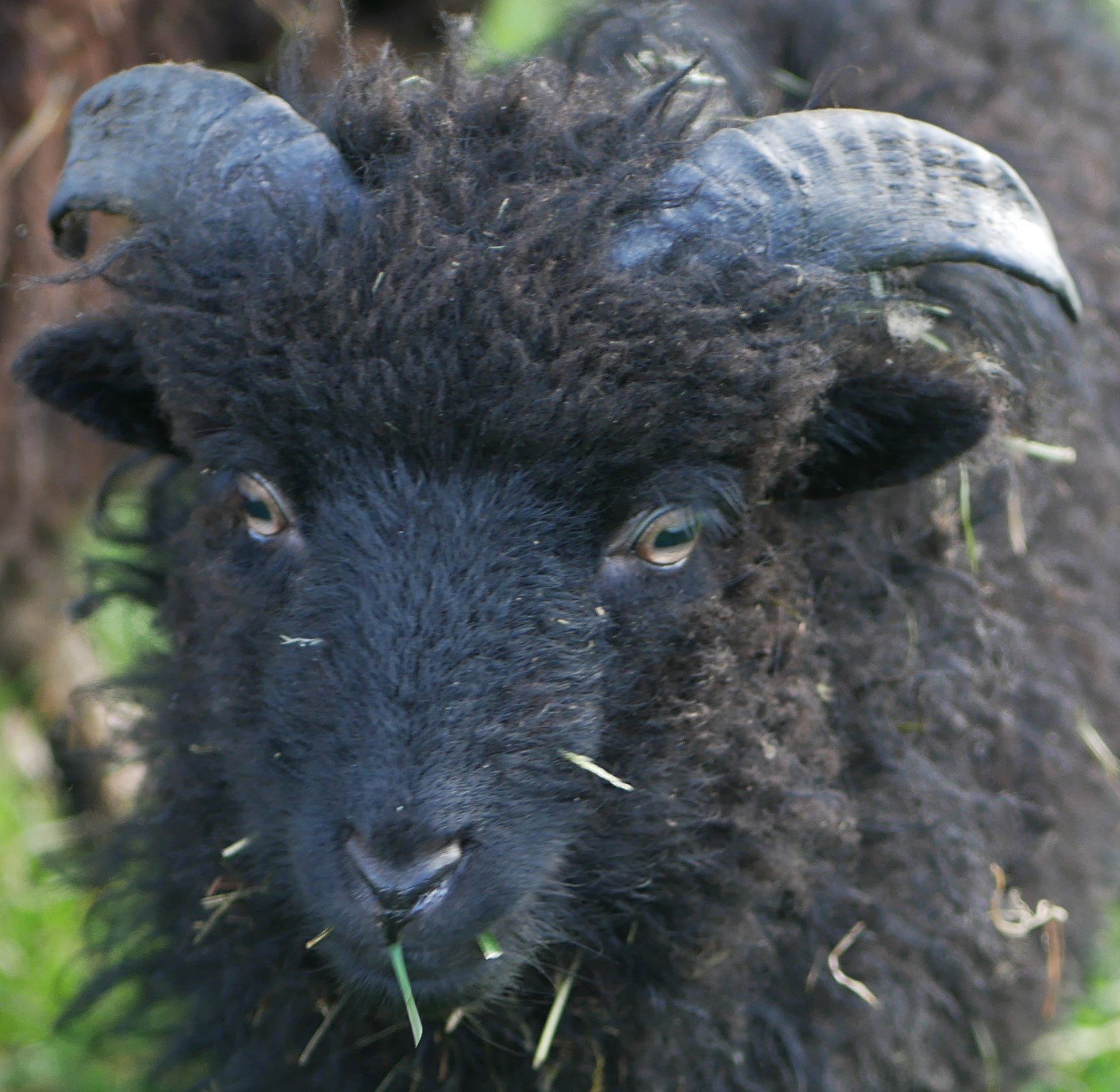 'TitCadeau is 100% St. Symphorien : 75% Caramel et 25% 'TitBijou.
He carries within him the genetic legacy of the St. Symphorien line and the future of my flock.
As for me, I think that the future looks bright : he is very small, with intense black coloration and promising horns.
In other words …
… a little miracle …
… a 'TitCadeau.
'TitCadeau est 100% St. Symphorien, dont 75% Caramel et 25% 'TitBijou.
Il porte en lui l'héritage de la lignée St. Symphorien et l'avenir de mon troupeau.
Quant à moi, je pense que ça s'annonce très bien : il a une très petite taille, une belle couleur noire intense, et un cornage prometteur.
Autrement dit …
… une petite merveille …
… un 'TitCadeau.
The entire contents of the SpinningShepherd.com © Copyright 2008-2021. 
Text and photographs may not be published, broadcast or redistributed
without the express permission of the author/owner.