Un autre gris … d'une beauté sublime !

I have to admit it, I have a real weakness for faded black (grey) Ouessant wool. It's a seductive, magnificent, richly shaded color. A color that's all together unusual and singular, right?
Well, perhaps not quite as unusual and singular as that! You see, I think that I've found this same color in a little package that has come to me all the way from Canada.
First, a huge thank you to Jody who sent me a little package full of wool from her alpacas. Jet black. Silver Grey. And last but certainly not least … Rose-Grey, a color to melt the heart of any spinner. I was struck not only by the beauty and the fineness of this gorgeous rose-grey alpaca, but also by how much the color of this alpaca was like the color of faded black (grey) Ouessant wool.
In the following photo we see a skein of faded black (grey) Ouessant wool on the niddy-noddy : on the left is faded black (grey) Ouessant wool, on the right rose-grey alpaca.
Il faut l'admettre … j'ai un penchant pour la laine Ouessant noire décolorée (grise). C'est une couleur sublime, nuancée, et séduisante. Une couleur tout à fait singulière, n'est-ce pas?
Bon, peut-être pas aussi singulière que ça! Effectivement, je pense avoir retrouvé cette même couleur dans un petit colis qui m'est venu du Canada.
D'abord, un grand merci à Jody qui m'a envoyé un petit colis plein de laine de ses alpagas ! Un noir jais. Un gis argenté. Et finalement … un gris-rose à faire fondre le coeur d'une fileuse. Cette magnifique laine alpaga de couleur gris-rose m'a toute de suite frappée non seulement par sa finesse et sa beauté, mais aussi parce qu'elle se rapproche drôlement de la couleur noire décolorée (grise) de la laine Ouessant.
Dans cette photo nous voyons un écheveau de laine Ouessant noire décolorée (grise) sur le mandarin : à gauche de la laine Ouessant noire décolorée (grise), à droite de la laine alpaga gris-rose.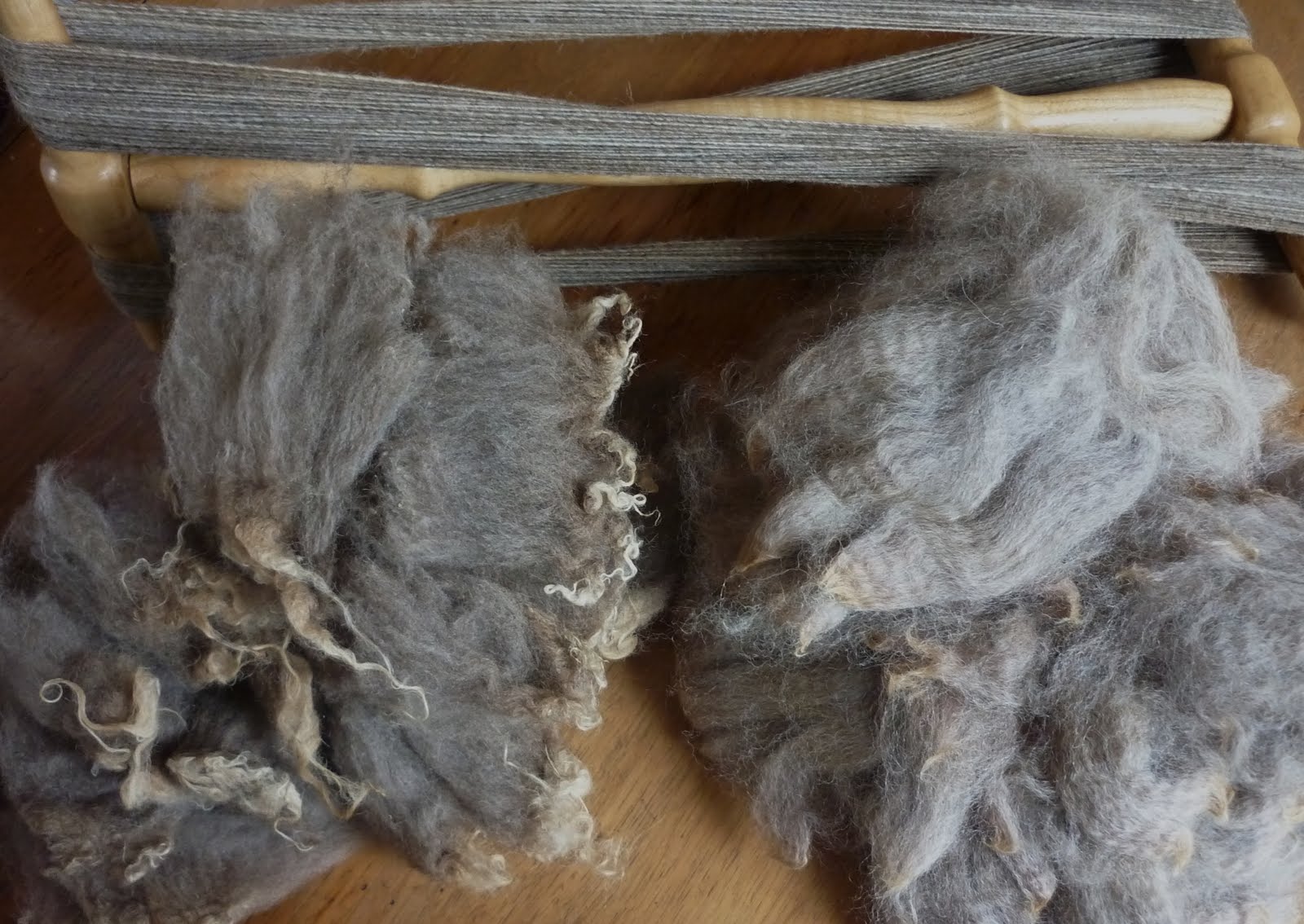 A wonderful gift. Now what shall I do with this fiber?
Perhaps a lovely little lace shawl.
Humm … I'll have to give this some serious thought!
Un cadeau merveilleux …. et que faire avec?
Peut-être un joli châle en dentelle?
Il faut réfléchir.
The entire contents of the SpinningShepherd.com © Copyright 2008-2019. 
Text and photographs may not be published, broadcast or redistributed
without the express permission of the author/owner.