De la Toison au Tricot n° 56 : Un Châle en dentelle à partir de célibataires

Finally, here is the last step of my little experiment with lace weight singles.
If you remember, last year I had the chance to work with the fleece of Ponette, a beautiful little faded black (grey) ewe.
Enfin, voici la dernière étape de ma petite aventure avec les célibataires.
Si vous vous rappelez bien, l'année dernière j'ai eu la chance de travailler la toison de Ponette, magnifique petite brebis noire décolorée (grise).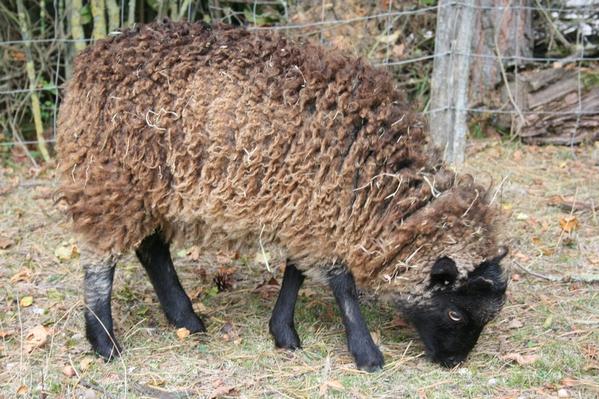 And what a joy it was to again be able to work with Ponette's fleece this year!
A big thanks to Dominique, her shepherd, and to Ponette too!
From this fleece, I spun a lace-weigh single that I then used to knit a lovely little lace shawl.
Et quelle joie de retrouver sa toison cette année!
Un grand merci à Dominique, son berger, et à Ponette aussi!
À partir de cette toison, j'ai façonné un célibataire que j'ai ensuite utilisé pour tricoter un joli petit châle en dentelle.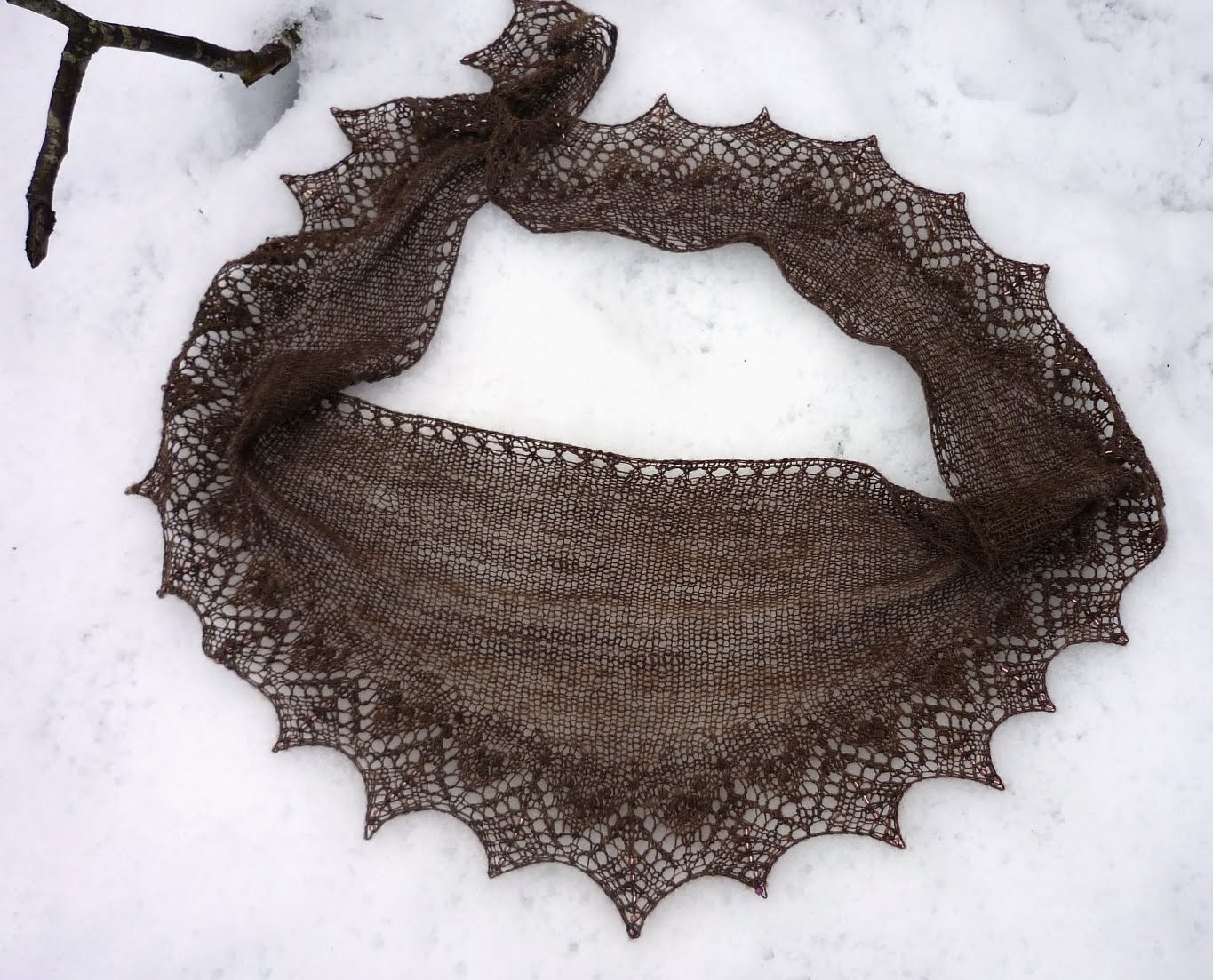 This year I decided to make Annis by Susanna IC.
This lovely crescent shaped shawl measures 56″ x16″ and weighs less than 2 oz.
This pattern is free and is available is both English and French.
A few comments : While I was knitting this shawl, I kept thinking about how wild and energetic these singles looked after they had been washed. When I wash this shawl, will I end up with a heap of tangled messy yarn? To my great surprise (& relief), when I washed the shawl before blocking, it looked normal : wet, but normal! I could hardly believe it. Then, I remembered a few ideas that Judith MacKenzie McCuin discussed in The Intentional Spinner (Interweave Press, 2009).
Essentially, she underscored the fact that each time you manipulate yarn after it is spun, you are potentially modifying the twist : you are either increasing twist or decreasing twist. (p. 88) So … & this is just a guess …. it might be possible that just knitting a single tends to decrease its twist. Hummm … just an idea! At any rate, I have more shawls to knit and we'll have to see how they turn out!
Cette année, j'ai choisi le modèle "Annis" de Susanna IC.
Ce joli châle en forme de croissant mesure 140cm x 40cm et ne pèse que 55 grammes.
Ce modèle est gratuit et disponible en anglais et en français.
Quelques commentaires : lors du tricotage de ce châle je ne cessais pas de penser aux célibataires tels qu'ils se présentent après lavage. Quand je vais le laver, est-ce que ce châle va se transformer en un amas de fils entortillés et débordants d'énergie? À ma grande surprise, lors du lavage, le châle a gardé un aspect tout à fait normal : mouillé, mais normal! Je n'en croyais pas mes yeux. Puis, je me suis rappelé quelques réflexions de Judith MacKenzie McCuin dans The Intentional Spinner (Interweave Press, 2009).
Effectivement elle souligne le fait que chaque manipulation du fil après filage modifie éventuellement la torsion du fil : soit en l'augmentant, soit en la diminuant. (p. 88) Alors, il se peut que le simple fait de tricoter un célibataire diminue la torsion du fil. On verra bien, car j'ai d'autres châles à tricoter!
The entire contents of the SpinningShepherd.com © Copyright 2008-2019. 
Text and photographs may not be published, broadcast or redistributed
without the express permission of the author/owner.