De la Toison au Tricot n° 138 : Travailler le poil du lapin angora sur la planche à mélanger

What could be softer and more delicate than a blend of angora and Ouessant wool?
Oh yes, these are angora-Ouessant wool rolags made on my blending board.
Quoi de plus doux et de plus délicat qu'un mélange de poil angora et de laine Ouessant ?
Ah oui, ce sont des rolags angora-laine Ouessant faits sur ma planche à mélanger.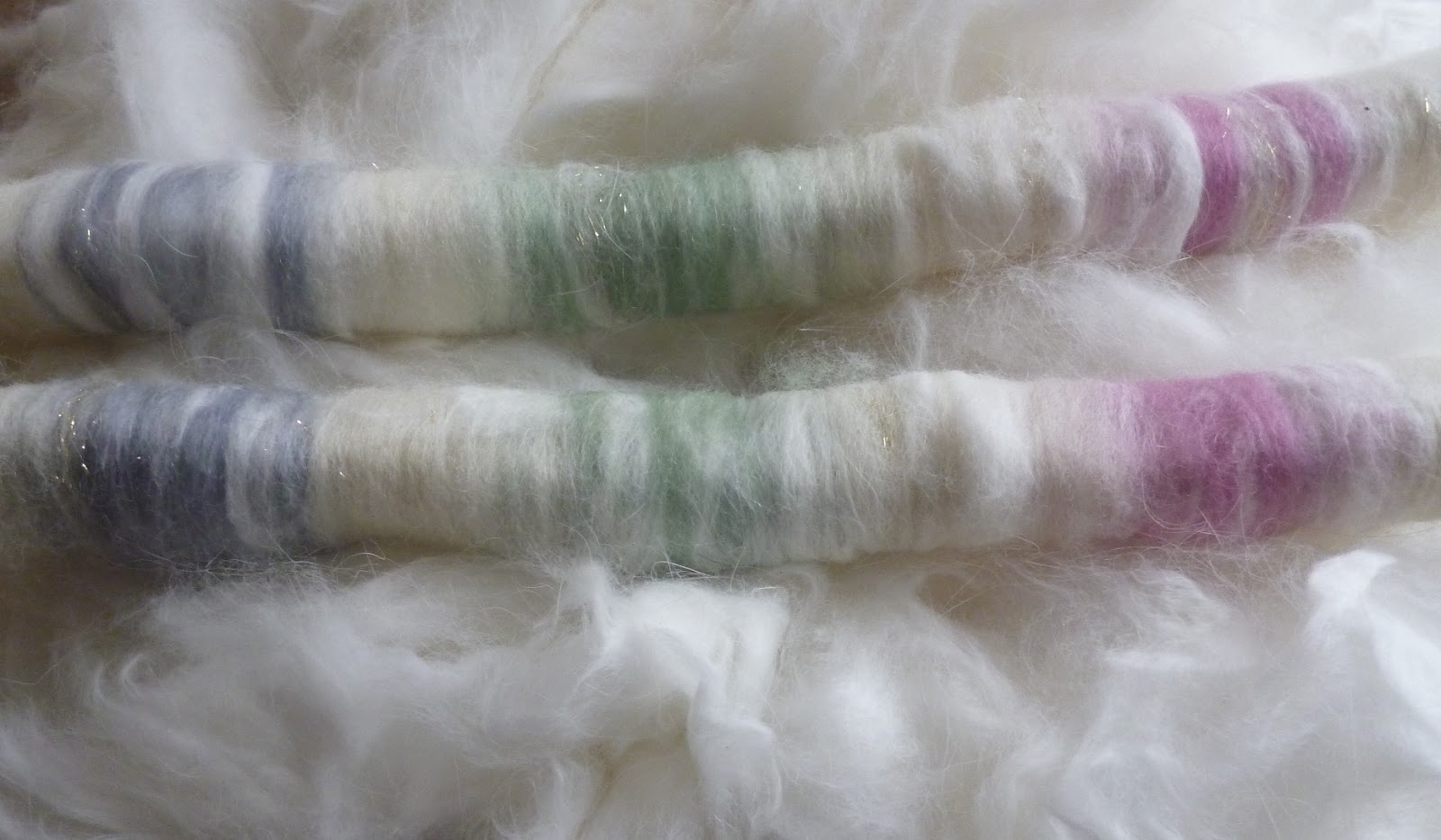 Do you remember the beautiful fleece that I dyed a few weeks ago from Désirée ?
First, I have to say theat I had put aside half of her fleece that I didn't dye. I combed all of the undyed fleece. Then before combing the dyed fleece, I sorted it by color. I ended up with pink, blue, green and white combed wool.
Vous vous rappelez de la belle toison de Désirée ?
D'abord, il faut dire que j'avais mis de côté la moitié de la toison de Désirée qui n'a pas été teinte. J'ai peigné l'ensemble de la toison non-teinte. Puis, avant de peigner la laine teinte, je l'ai triée par couleur. J'ai fini par avoir de la laine rose, bleue, verte, et blanche.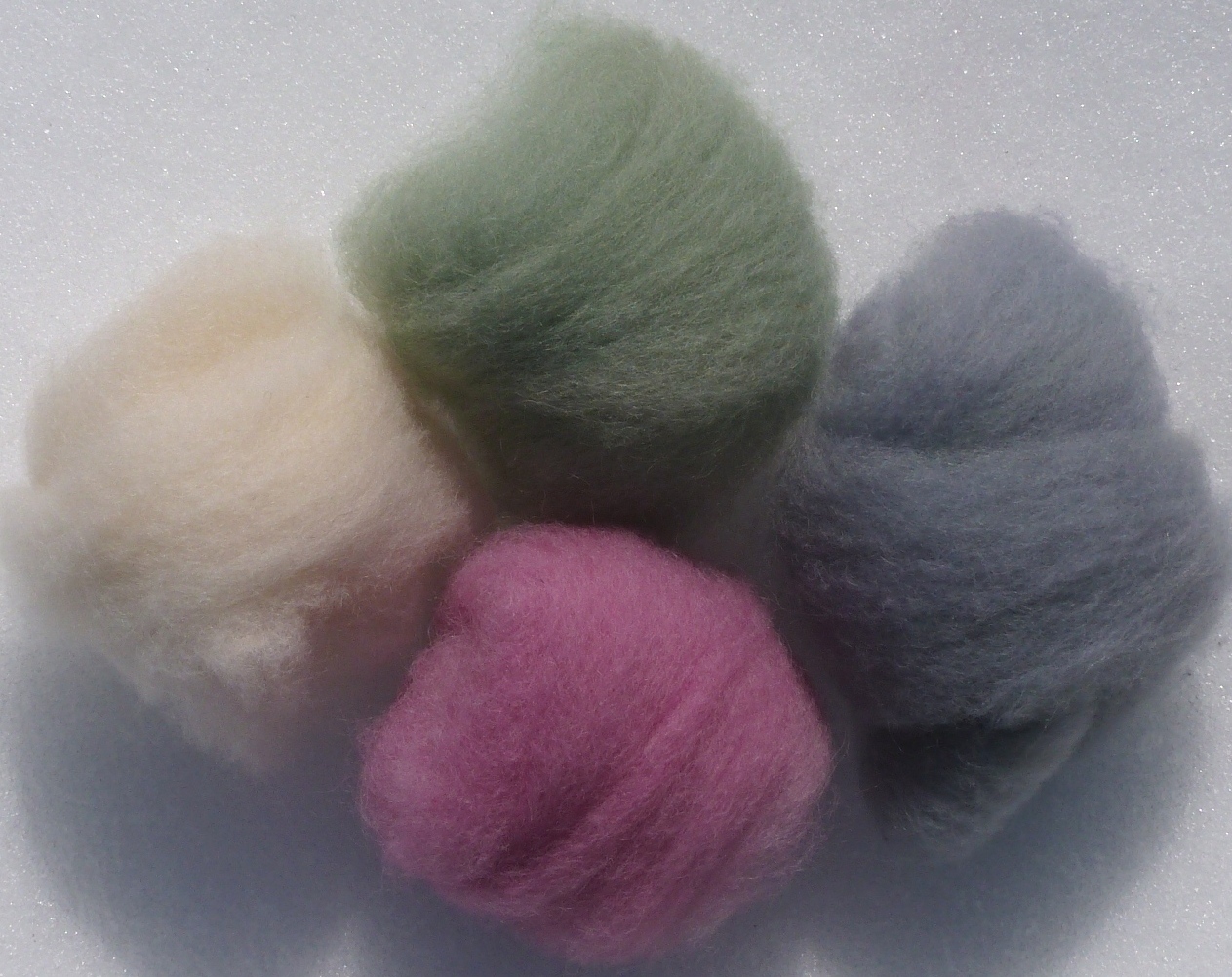 To make my angora-Ouessant wool rolags, I started with one layer of combed Ouessant wool.
For this particular project, I decided to have stripes of dyed wool, alternating with white wool.
Pour faire mes rolags angora-laine Ouessant, j'ai commencé avec une couche de laine Ouessant peignée sur la planche.
Pour ce projet, j'ai décidé de faire un jeu de couleurs en faisant plusieurs rayures, toujours favorisant le blanc.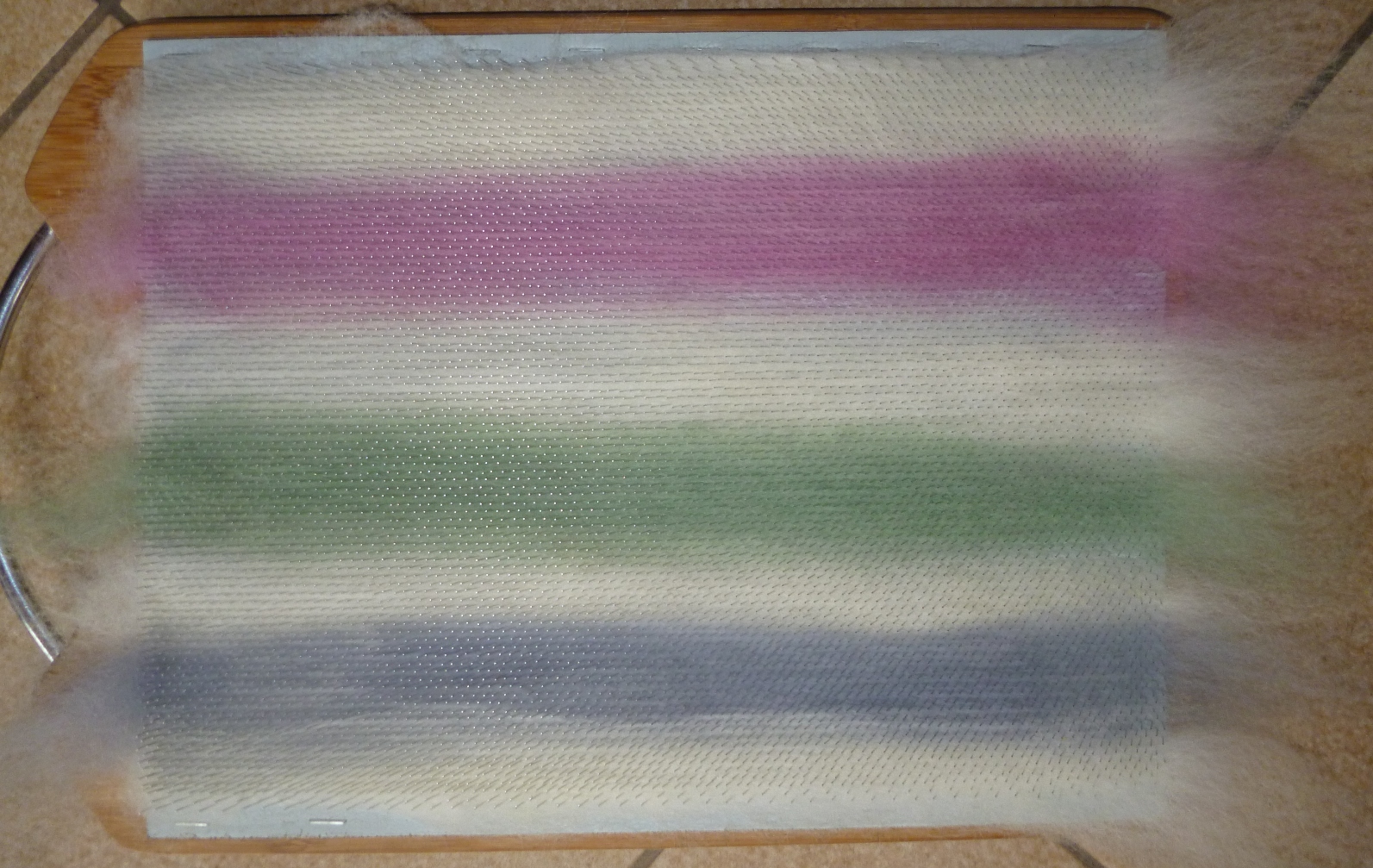 Next I added a layer of angora rabbit wool, on top of which I sprinkled a bit of "pure gold" angelina.
Ensuite, j'ai ajouté une couche de poil angora sur laquelle j'ai "saupoudré" un peu d'angelina couleur d'or.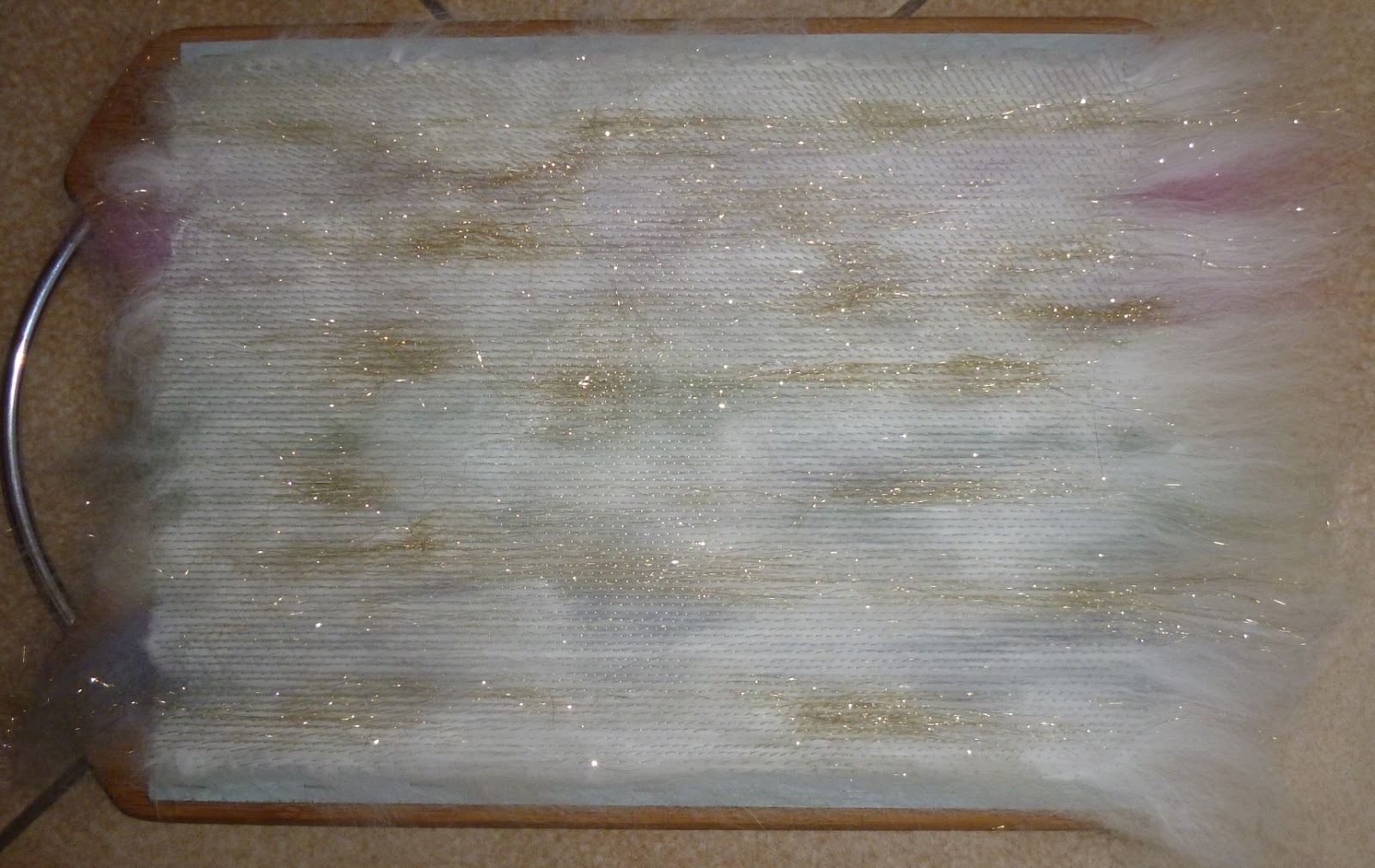 I have to say that these little rolags are a spinner's dream !
Il faut dire que ça fait des rolags de rêve !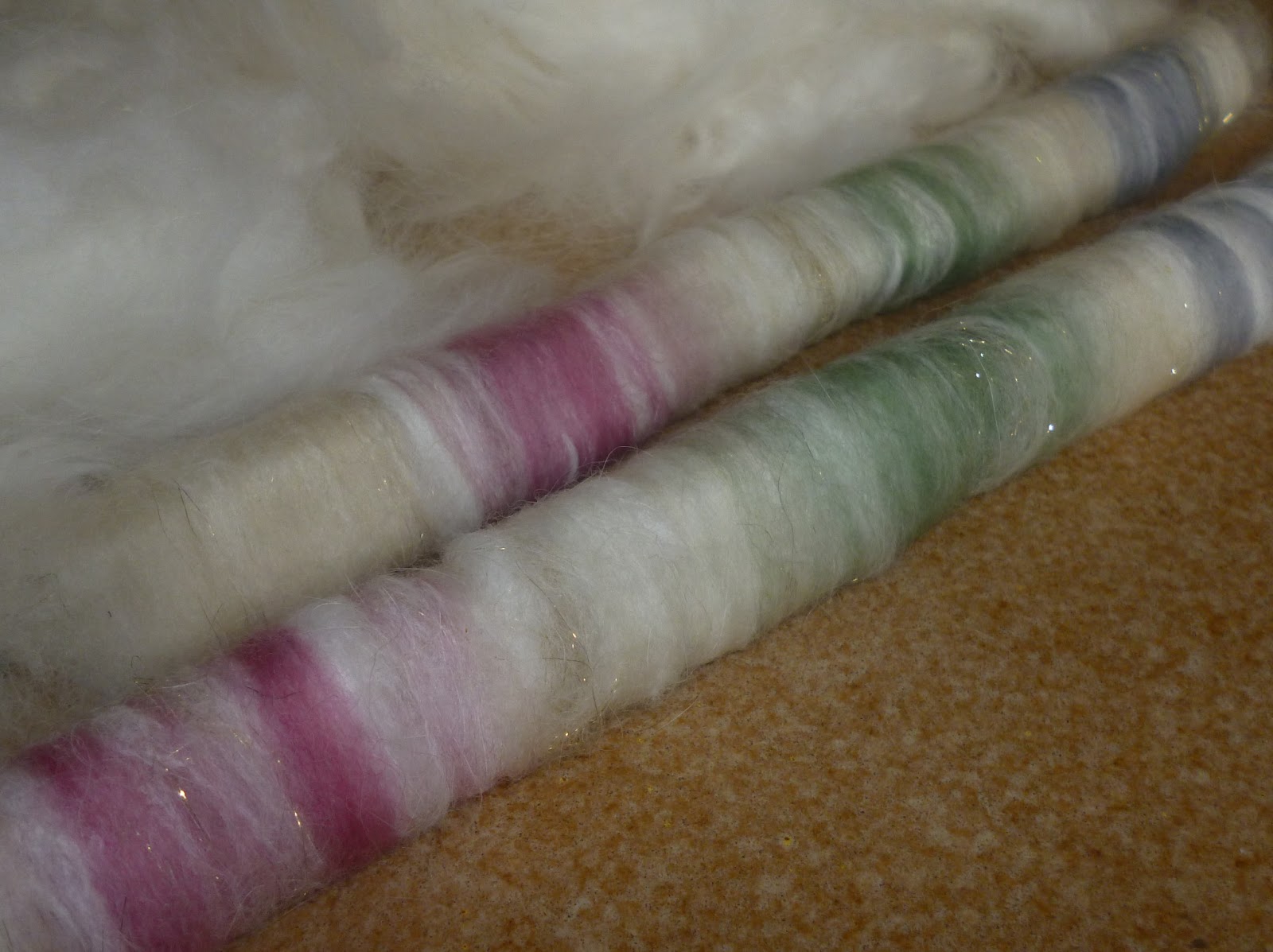 I spun all of the multi-colored angora-Ouessant wool rolags on one bobbin.
J'ai filé l'ensemble des rolags angora-laine Ouessant multi-couleurs sur une bobine.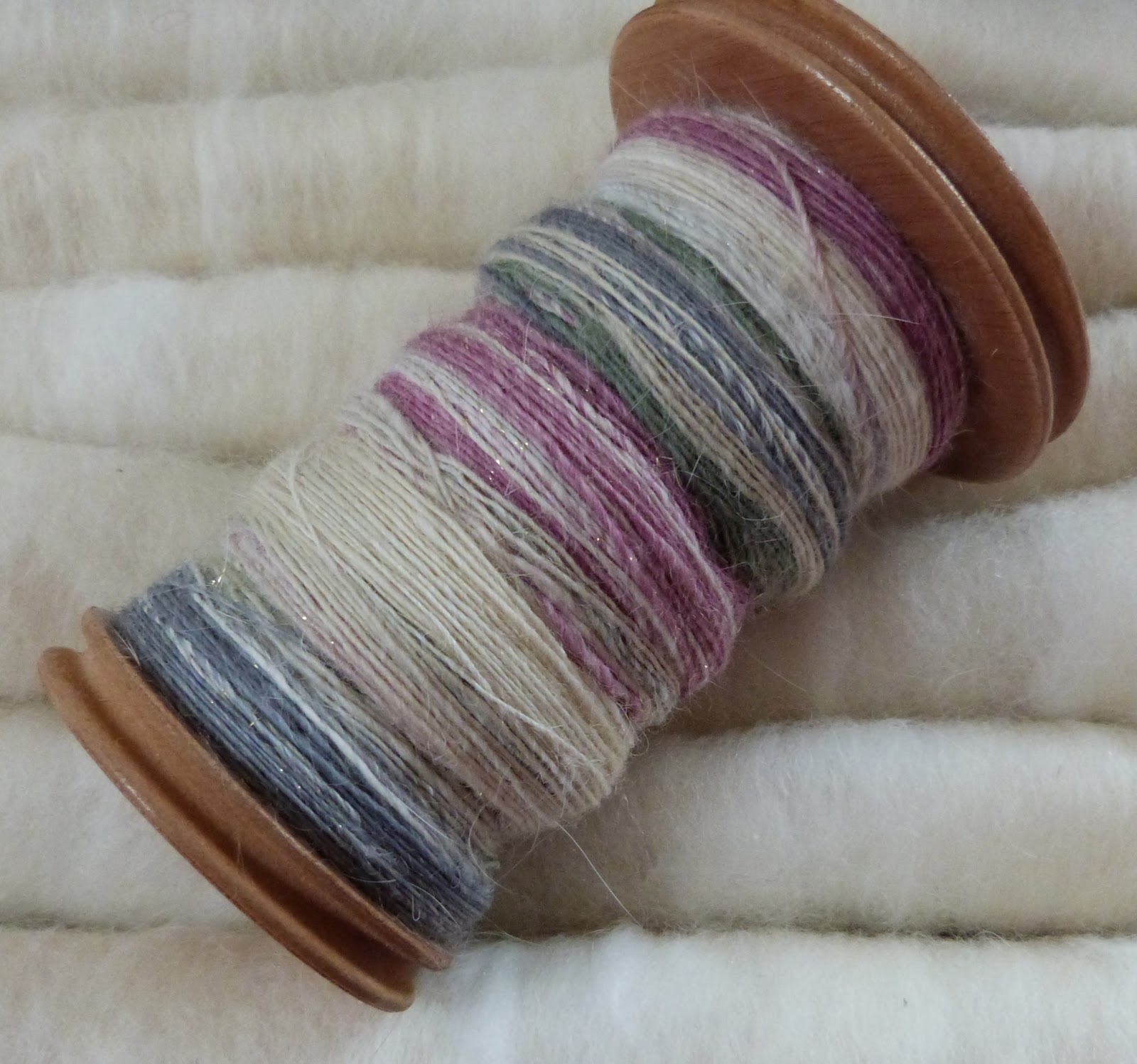 Next I made and spun some white angora-Ouessant wool rolags.
Then I plyed the two bobbins together.
Ensuite j'ai fabriqué et filé des rolags angora-laine Ouessant de couleur blanche.
Puis, j'ai retordu ces deux bobines ensemble.
I can't tell you how lovely this yarn is.
I already have a project in mind …. so more on this subject in the next few days !
Je ne peux pas vous dire combien c'est beau, ce fil.
J'ai déjà un projet en tête … alors, à bientôt !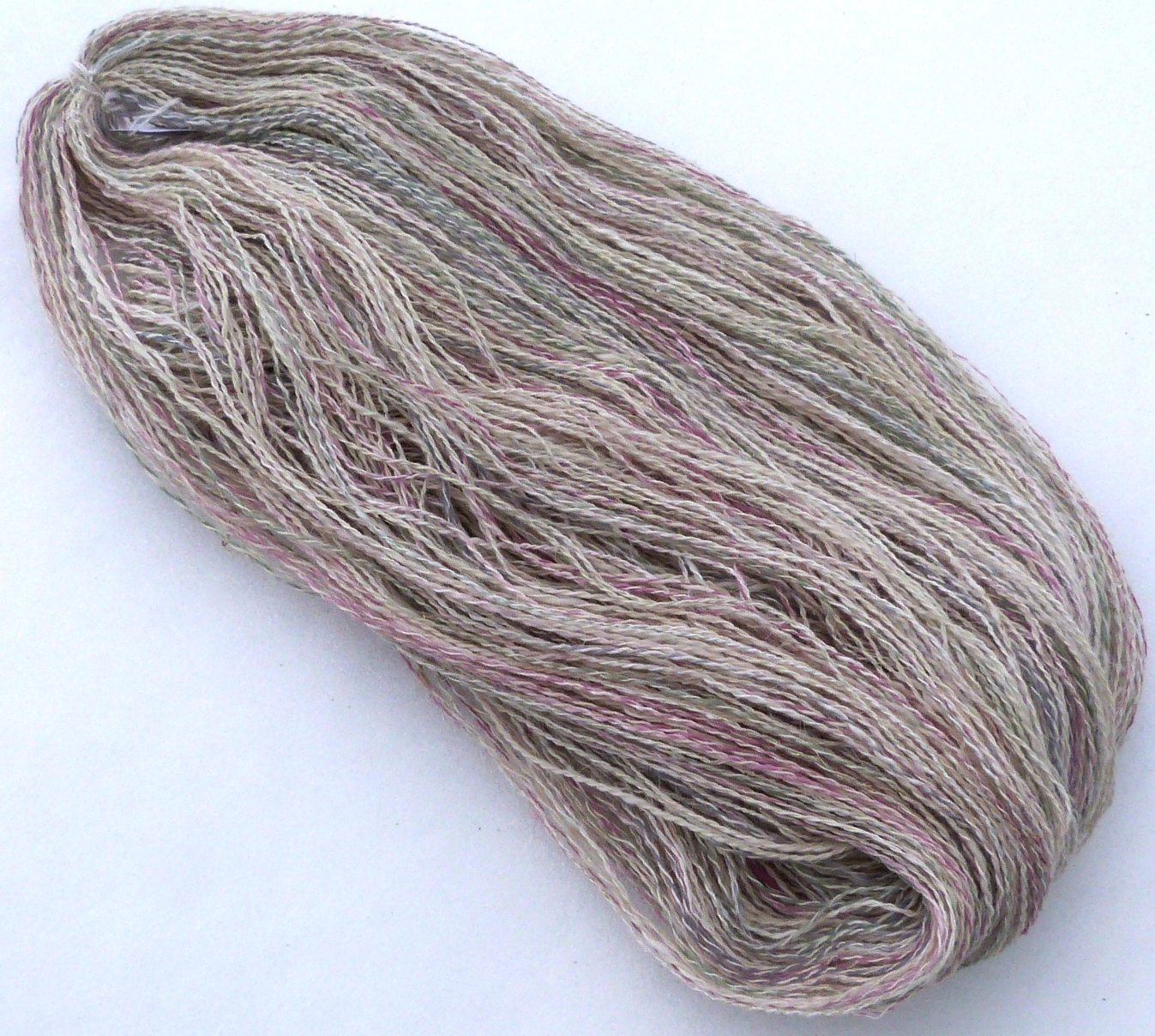 The entire contents of the SpinningShepherd.com © Copyright 2008-2021. 
Text and photographs may not be published, broadcast or redistributed
without the express permission of the author/owner.