De la Toison au Tricot n° 84 : Le Projet mystère dévoilé !

Here it is!
After a few cycles in the washing machine, the mystery project unveiled !
As some readers have already guessed, it's slippers !  But these aren't just any old pair of slippers : these are beautiful slippers made from Ouessant wool.
I used Mindie Tallack's pattern for Duffers.  This is a truly ingenious pattern : easy to make and the results are sure to please.  I cast on using Judy's Magic Cast On.  And I cast off using the 3-stitch i-cord bind off.
First a pair of naturally colored brown and white slippers in Ouessant wool, with parrots for someone who loves birds.
Le voilà !
Après quelques tours dans la machine à laver,  le mystère est dévoilé !
Effectivement, comme certains lecteurs ont deviné, il s'agit de pantoufles !  Mais pas de n'importe quelles pantoufles : de belles pantoufles en laine Ouessant.

J'ai utilisé le modèle « Duffers » de Mindie Tallack.  Modèle ingénieux : facile à réaliser avec résultat assuré.  J'ai monté les mailles avec la technique dite Judy's Magic Cast On.  Et j'ai rabattu les mailles avec la technique dite 3-stitch i-cord bind off.
D'abord une paire de pantoufles en brun et blanc avec quelques petites perruches pour celle qui les aime.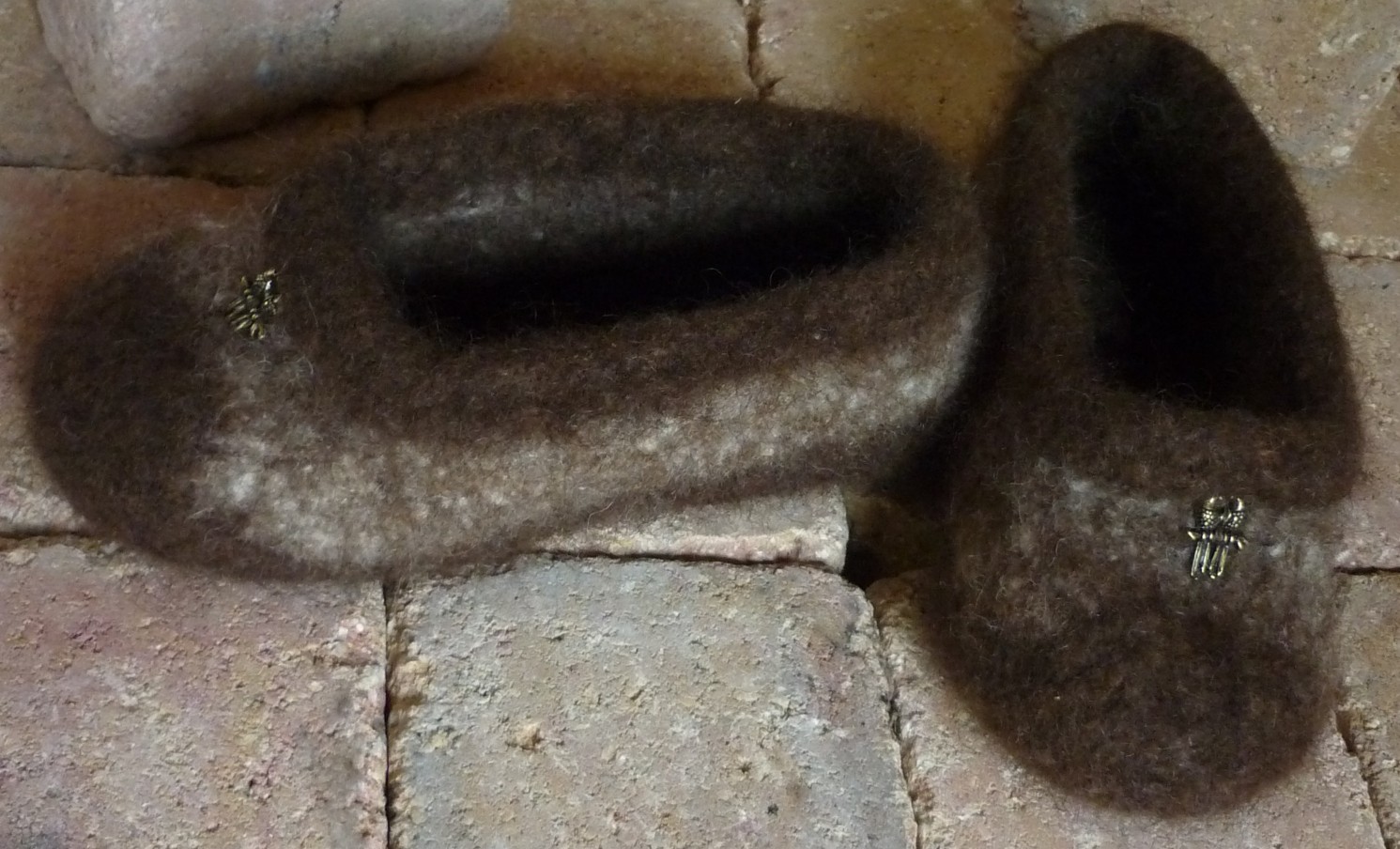 Next a pair in naturally colored black and grey ouessant wool, with two little rams for someone who loves sheep.
Puis une paire en noir et gris (couleurs de laine naturelles), avec deux petits béliers pour celui qui aime les moutons.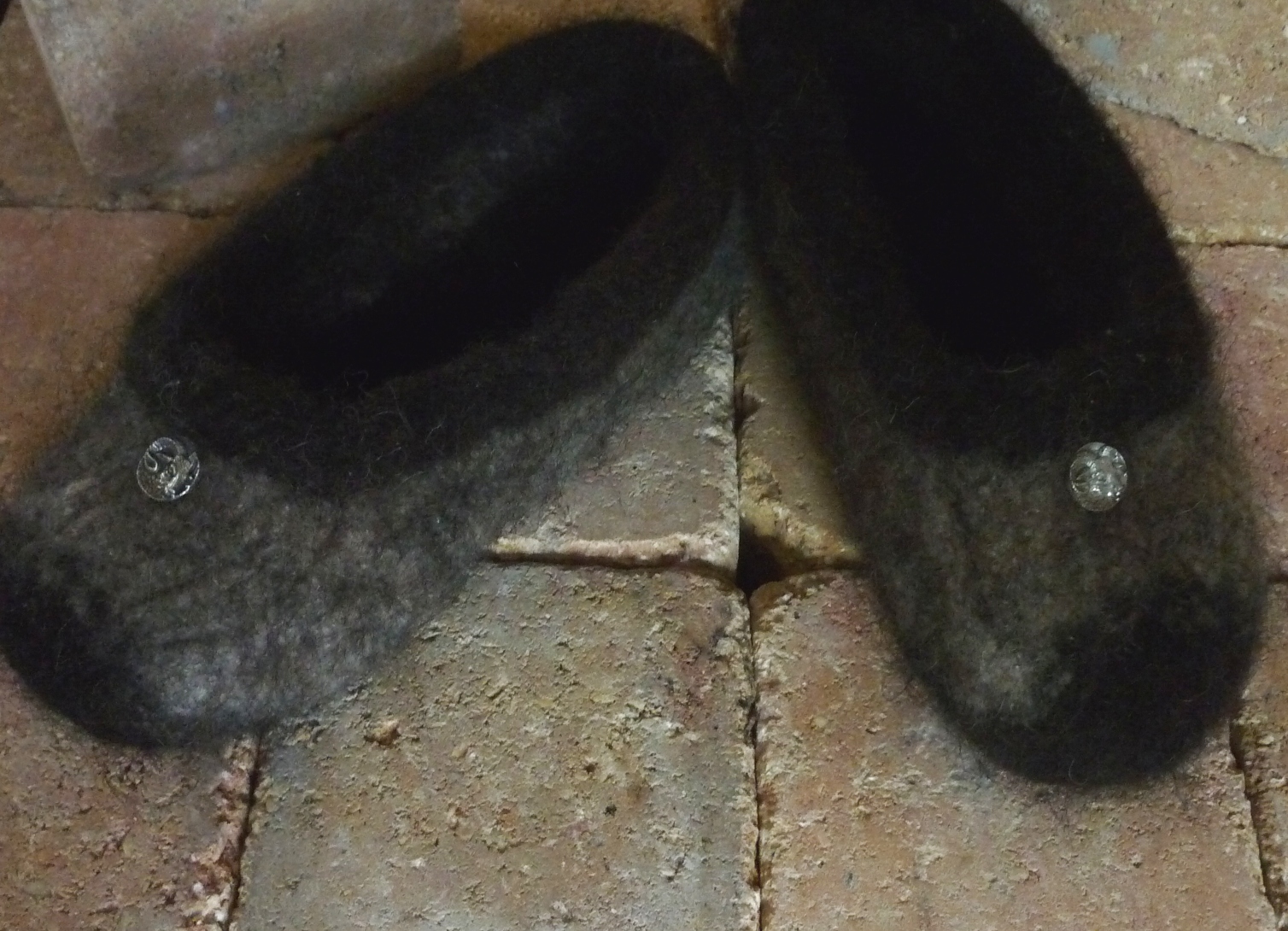 Note that these lovely ram's head buttons are made of hand-cast pewter.
Il faut noter que ces splendides boutons à tête de bélier sont en étain et fabriqués à la main.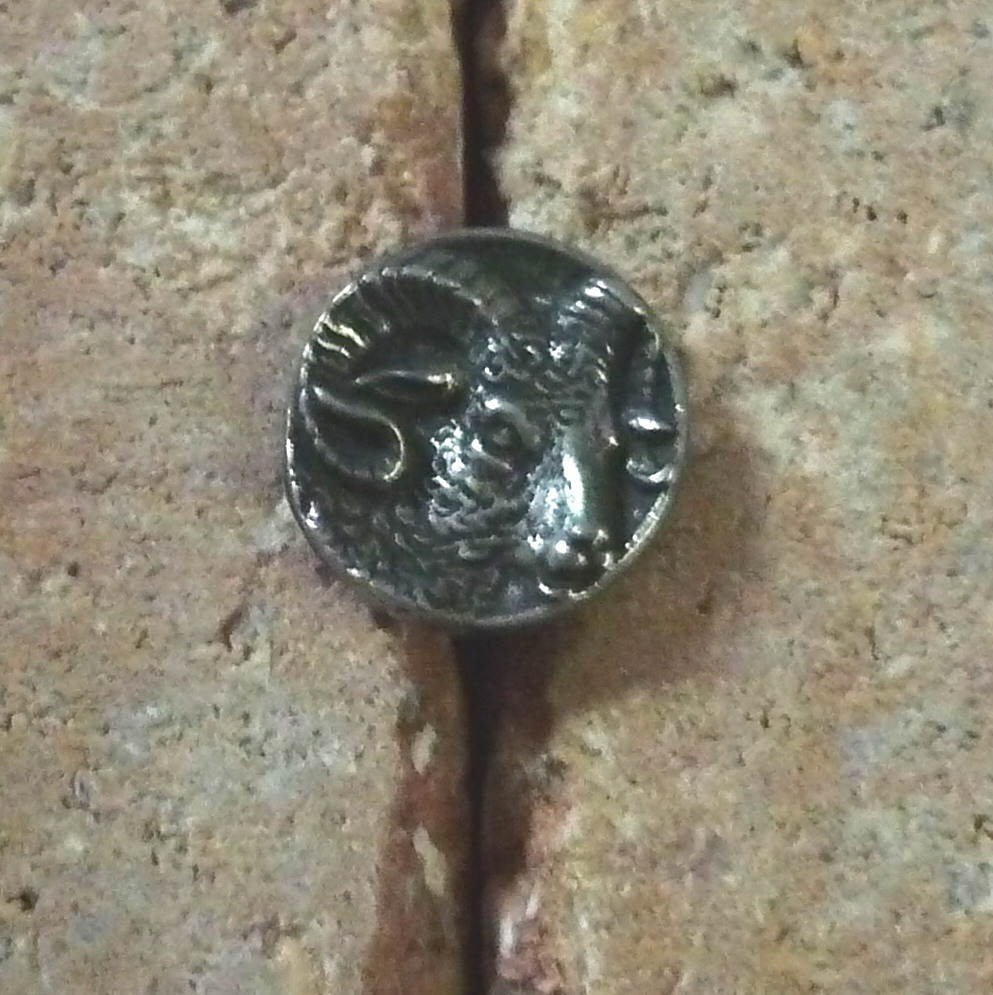 It's a reproduction of an antique French button from the 19th century from The Rams Horn Studio.
Could it possibly be an image of a little Ouessant ram from days gone by ?
I don't know … but one can always dream …
C'est la copie d'un ancien bouton français du 19ème siècle du The Rams Horn Studio.
S'agit-il d'une représentation d'un petit bélier Ouessant du temps jadis ?
Je ne sais pas … mais on peut toujours rêver….
The entire contents of the SpinningShepherd.com © Copyright 2008-2019. 
Text and photographs may not be published, broadcast or redistributed
without the express permission of the author/owner.