De la Toison au Tricot n° 156 : Un Bonnet Rouge pour Un Mouton Noir !

Without a doubt you've noticed that it's been a while since she's written anything for you.
Basically, my Shepherd is really busy right now, with a ton of things to do.
So me, Sacha, I'm going to take over !
Plus, I've got lots of things to say !
For the past few weeks now I've been asking my Shepherd to make me a little woolly red hat out of Ouessant wool. I made such a fuss that she finally gave in and made one for me. It's the first time that she's ever knit a hat for a sheep. It's not too bad for a first try !
And I think I look pretty cute in it ! 
Sans doute vous avez bien constaté que ça fait un petit moment qu'elle ne vous a rien écrit !
Effectivement, ma Bergère est très prise par un tas de choses.
Alors, moi, Sacha, je vais prendre le relai !
En plus, j'ai des choses à vous dire !
Pendant plusieurs semaines j'ai demandé à la Bergère de me faire un petit bonnet rouge en laine Ouessant.  J'ai tellement insisté, qu'elle a fini par m'en faire un.  C'est la première fois qu'elle a tricoté un bonnet pour un mouton.
C'est pas trop mal pour un premier !
En plus, je pense qu'il me va bien.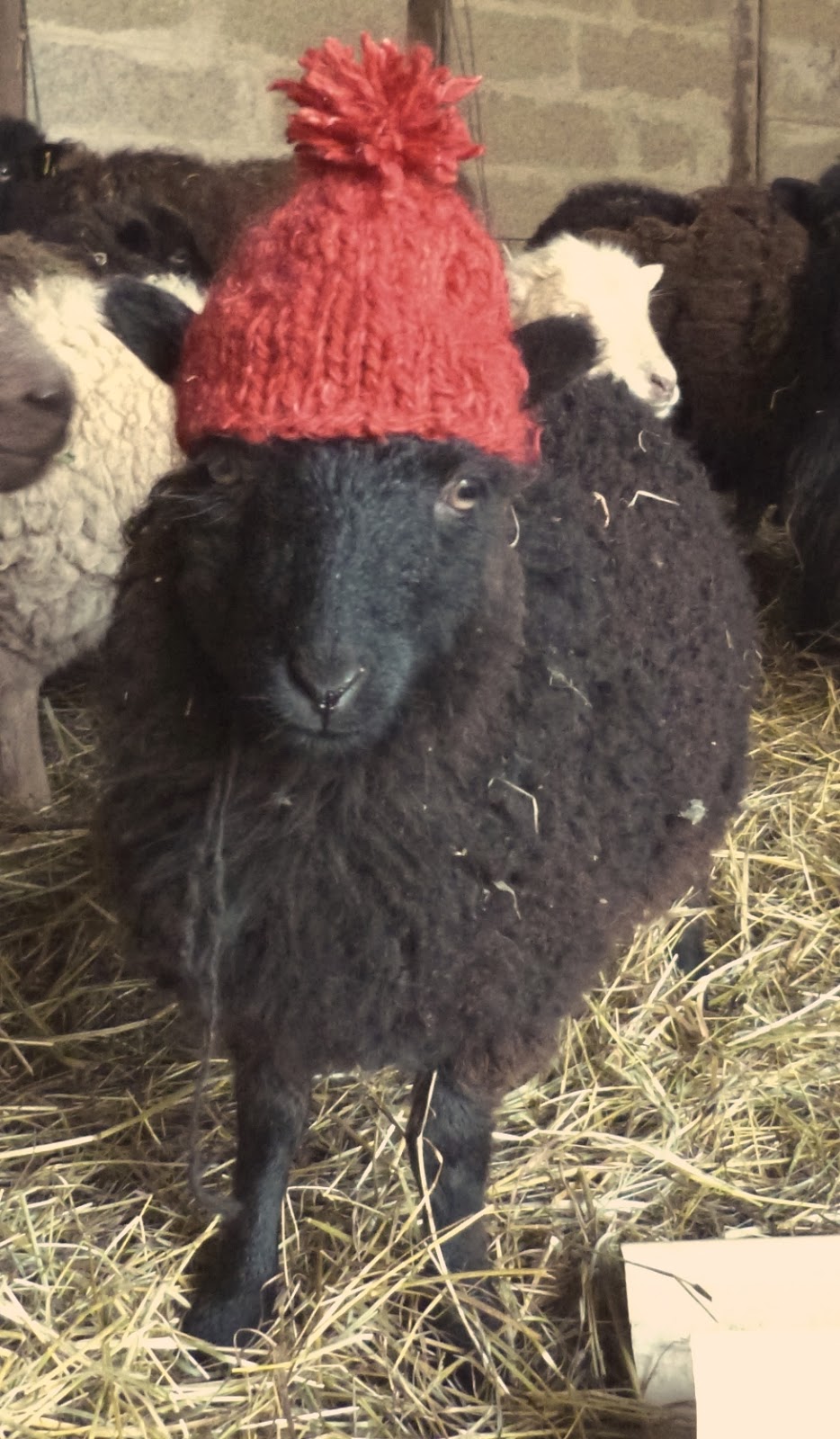 You know, red is not an insignificant color, even more so when it's a red hat. In France, and especially in Brittany, a red hat means liberty and rebellion.
And me, Sacha, I'm a rebellious little black sheep.
Do you know why I'm in such a stir ? I'm absolutely outraged by the current laws that require sheep to be electronically tagged. Alright, it must be said that in theory I have nothing against electronic tags. But they have to be the right size for the sheep's ears.
And that's the problem.
The tags that they want my Shepherd to get are too big for my little ears and the ears of other Ouessant sheep. Do you remember just how small I was when I was born : I weighed just 1.5 lbs.
Vous savez, le rouge ce n'est pas une couleur anodine, encore plus quand il s'agit d'un bonnet rouge ! En France, et surtout en Bretagne, un bonnet rouge signifie la liberté et la révolte. Et moi, Sacha, je suis une petite agnelle noire bien révoltée !
Vous savez pour quoi je suis tellement agitée ? Moi, je suis tout à fait scandalisée par la législation actuellement en place qui exige le bouclage électronique des moutons. D'accord, il faut dire que dans l'abstrait, je n'ai rien contre les boucles électroniques. Mais il faut qu'elles soient adaptées à l'oreille du mouton en question.
Alors, c'est là où ça coince ! Les boucles qu'on propose à ma Bergère sont bien trop grandes pour mes petites oreilles et les oreilles des autres moutons d'Ouessant. Vous vous rappelez combien j'étais toute petite à la naissance : je ne pesais que 750 g.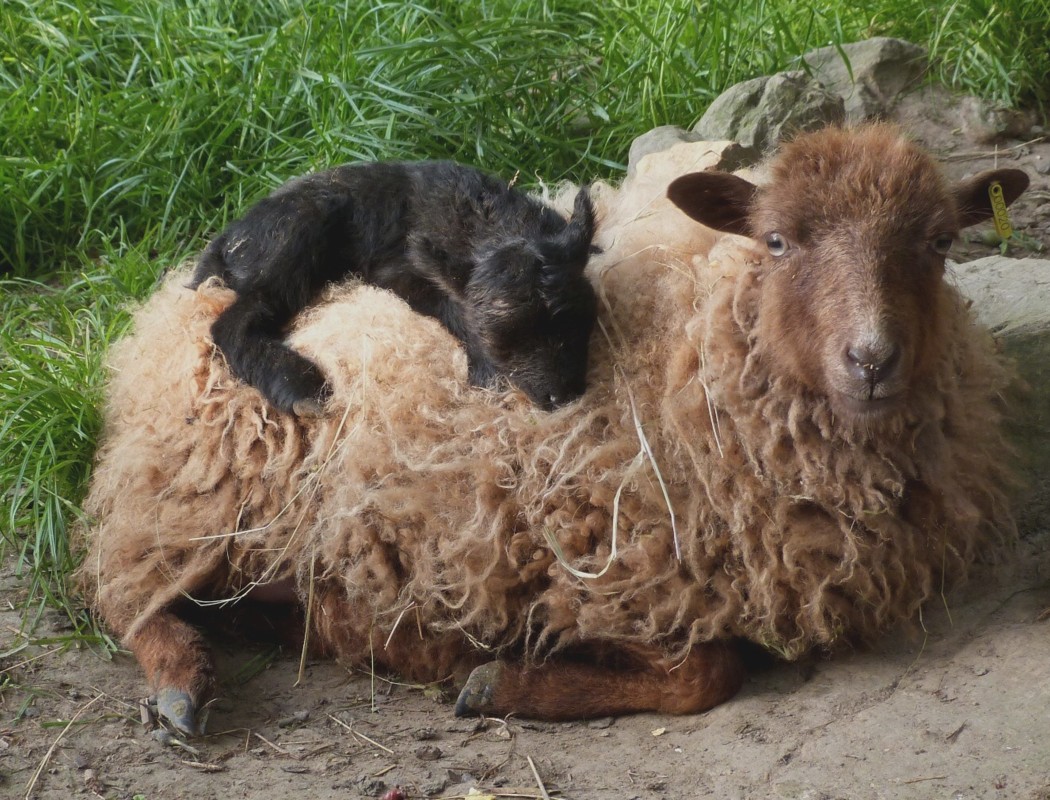 Okay, I've grown since then : at 5 months old I'm 12″ tall. Even if I am "a big girl" now, I am really very small when compared to a "normal" sized sheep. And that's not all. I have very tiny ears that are barely 2″ long.
The electronic tags that they want us to use are dangerous things !
They cause infection and horrifying necrosis. If that weren't enough, they also tear and rip our ears when they're caught in fencing. They're the source of an absolute carnage for the ears of Ouessant Sheep.
To show you why I'm so upset about this, here's a picture of my Daddy's ear.
D'accord, j'ai grandi depuis : maintenant à 5 mois je mesure 31cm au garrot !  Même si je suis « une grande fille » je suis toute petite par rapport à un mouton de taille dite «normale»! En plus j'ai les oreilles toutes petites qui mesurent à peine 5 cm de longueur !
Les boucles électronique qu'on nous propose sont des engins meurtriers !  Elles entraînent des infections et des nécroses affreuses.  En plus, elles déchirent nos oreilles quand elles sont prises dans le grillage.  C'est une véritable hécatombe pour les petites oreilles des moutons d'Ouessant.
Voilà une photo de l'oreille de mon Papa pour vous montrer pourquoi je suis tellement remontée.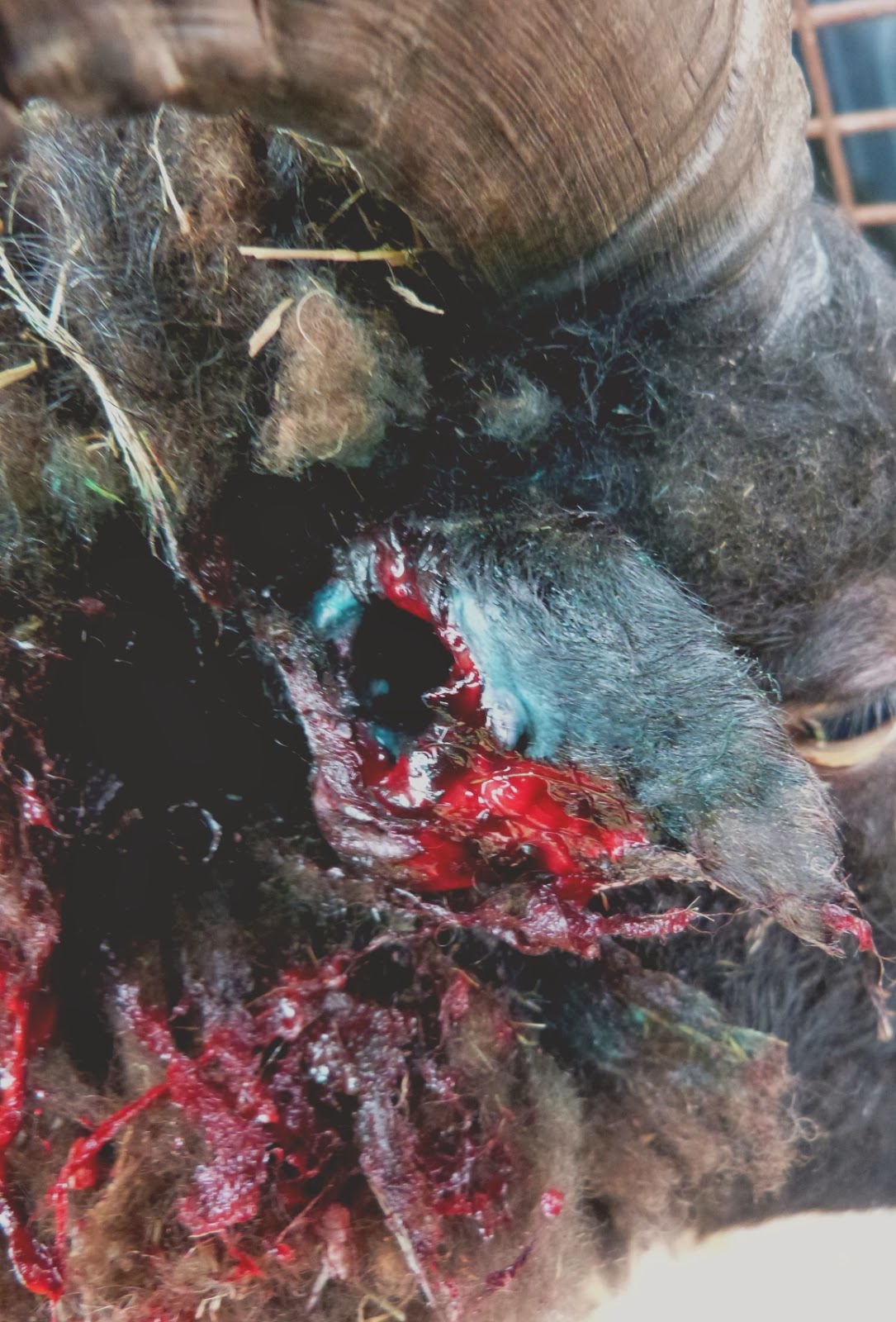 It makes me cry when I think about it. My Daddy had such pretty little ears too, just like me. But thanks to an infection followed by necrosis, all caused by these new electronic tags … he has now been disfigured for life.
But me, Sacha, little black Ouessant ewe, I'm quite fond of my beautiful little ears and I proudly assert my right to protect my ears from the ravages of these electronic tags.
Would you like to help me in this fight to save the little ears of Ouessant sheep ?
Please support the initiative of GEMO, the French Ouessant breed society, and sign the petition to protect my ears and the ears of all Ouessant Sheep. Instead of big electronic tags, we're asking for identification with micro-chips.
Me, Sacha, and my little ears thank you for your support. (So does our Shepherd !)
Ça me fait pleurer quand j'y pense. Mon Papa, il avait, lui aussi, de jolies petites oreilles comme moi … … mais suite à une infection et une nécrose entraînées par les boucles électronique … il est défiguré à vie.
Quant à moi, Sacha, en tant que petite agnelle noire Ouessant, je tiens à mes jolies petites oreilles et je réclame mon droit le plus légitime à les sauvegarder des ravages des boucles électroniques.  Alors, est-ce vous voulez m'aider dans cette lutte pour sauvegarder les oreilles des moutons d'Ouessant ?
Soutenez l'action du GEMO, le Groupement des éleveurs de moutons d'Ouessant, et signez la pétition pour défendre mes oreilles et celles de tous les moutons d'Ouessant. Au lieu d'une grosse boucle électronique nous réclamons l'identification par "puçage" sous cutané.
Moi, Sacha, et mes petites oreilles, nous vous remercions d'avance pour votre soutien. (et ma Bergère aussi !)
The entire contents of the SpinningShepherd.com © Copyright 2008-2019. 
Text and photographs may not be published, broadcast or redistributed
without the express permission of the author/owner.