De la Toison au Tricot n° 115 : Travailler une toison aux mèches courtes
As a Spinning-Shepherd, I am very aware of the close relationship that exists between raw wool and the sheep that produces that wool.
The shepherd will tell you that each and every ewe and ram has his or her own personality. At the same time, the spinner will assure you that every fleece is different. To a certain extent, every fleece is the reflection of the sheep that produced it : when preparing and spinning wool, a wise Spinning Shepherd can learn and understand so much about his or her sheep.
As a spinner, when working with a fleece, a special link is created with the sheep that produced the wool, particularly if you actually "know" the sheep in question. Also, when the spinner "knows" a sheep, he or she feels obliged to make the very most out of the fleece that has been so generously offered.
One must keep in mind that every fleece is different and quite often a particular fleece can present a real challenge for the spinner. Sometimes these woolly challenges end in disaster : despite all the efforts of the spinner, a fleece is considered to be "impossible" and will end up on the compost pile. Fortunately, this doesn't happen too often. Usually, an experienced and determined spinner can make the most out of any fleece, even a fleece that is not perfect.
For one whole year now, I've been eagerly waiting for the fleece from a beautiful little Ouessant ewe from Hervé Vaillant's flock. Having already seen this ewe a number of different times, I feel as though I "know" her quite well, even though I've never worked with her fleece before. One must say that it is a fleece of unusual beauty …
En tant que Bergère-Filandière, je ressens la relation très étroite qui existe entre la laine brute et le mouton qui a produit la toison.
La bergère peut vous affirmer que chaque brebis et chaque bélier a sa propre personnalité. En même temps, la filandière peut vous affirmer que chaque toison est différente. D'une certaine façon, la toison est le reflet même du mouton : à travers la laine, une bergère-filandière bien avertie peut savoir pleine de choses sur ses moutons.
Pour la filandière, en travaillant la laine, une sorte de lien se tisse avec le mouton, surtout quand on "connaît" le mouton en question. D'autre part, quand la filandière "connaît" un mouton elle se sent dans l'obligation de tirer le meilleur parti possible de la toison offerte.
Il faut souligner que chaque toison est différente et souvent une toison peut se présenter comme un challenge pour la filandière. Parfois, ces défis "lainiers" font le malheur de la bergère-filandière, car malgré tous ses efforts, une toison jugée "impossible à travailler" finit sur le tas de compost. Heureusement ça n'arrive que très rarement. Normalement, une filandière expérimentée et déterminée peut arriver à tirer le meilleur parti d'une toison, même si la toison en question peut poser problème.
Depuis un an maintenant, j'attendais avec impatience la toison d'une jolie petite brebis Ouessant de chez Hervé Vaillant. L'ayant déjà vue à plusieurs reprises, j'avais l'impression de la bien connaître, même sans avoir travaillé sa toison. Il faut dire que c'est une toison d'une rare beauté …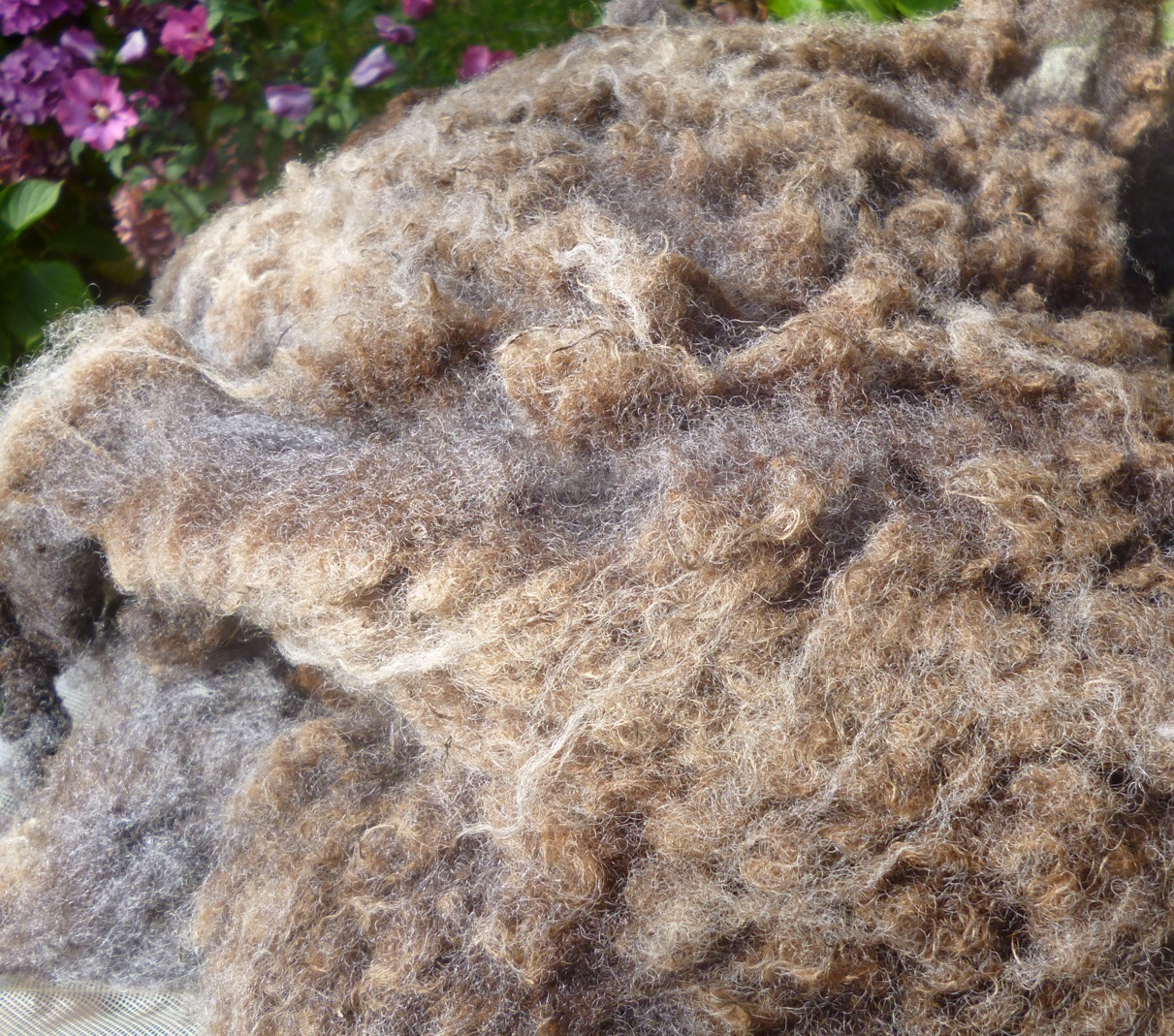 … even so, there is a problem with this fleece …
… pourtant, un petit problème se pose …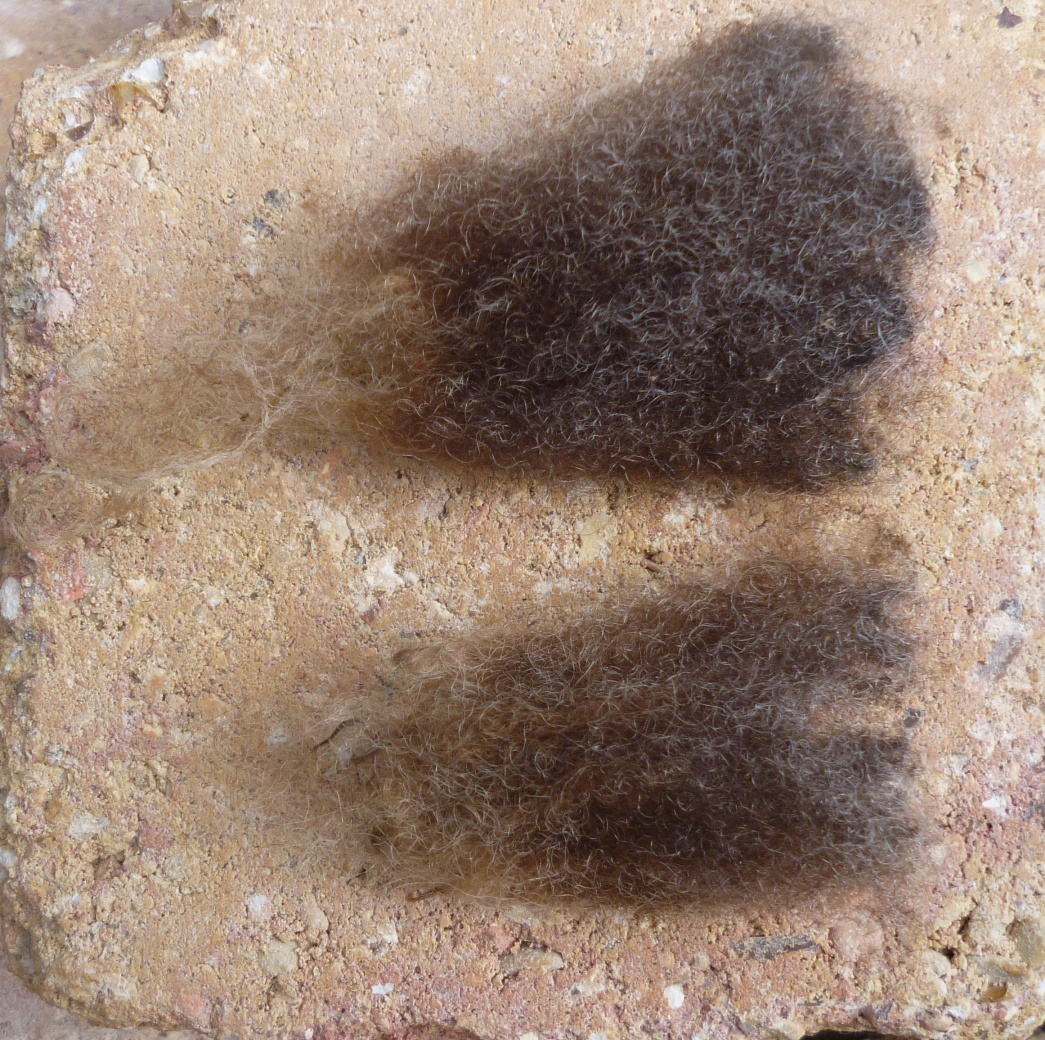 … these beautiful locks of wool are actually quite short. They are barely 2 inches long. We can see just how short these locks really are when they are placed beside a lock of wool from Agnella des Lutins du Montana.
… ces belles mèches sont très courtes. Elles ne mesurent que 5 cm. On voit bien combien ces mèches sont courtes quand elles sont mises à côté des mèches d'Agnella des Lutins du Montana.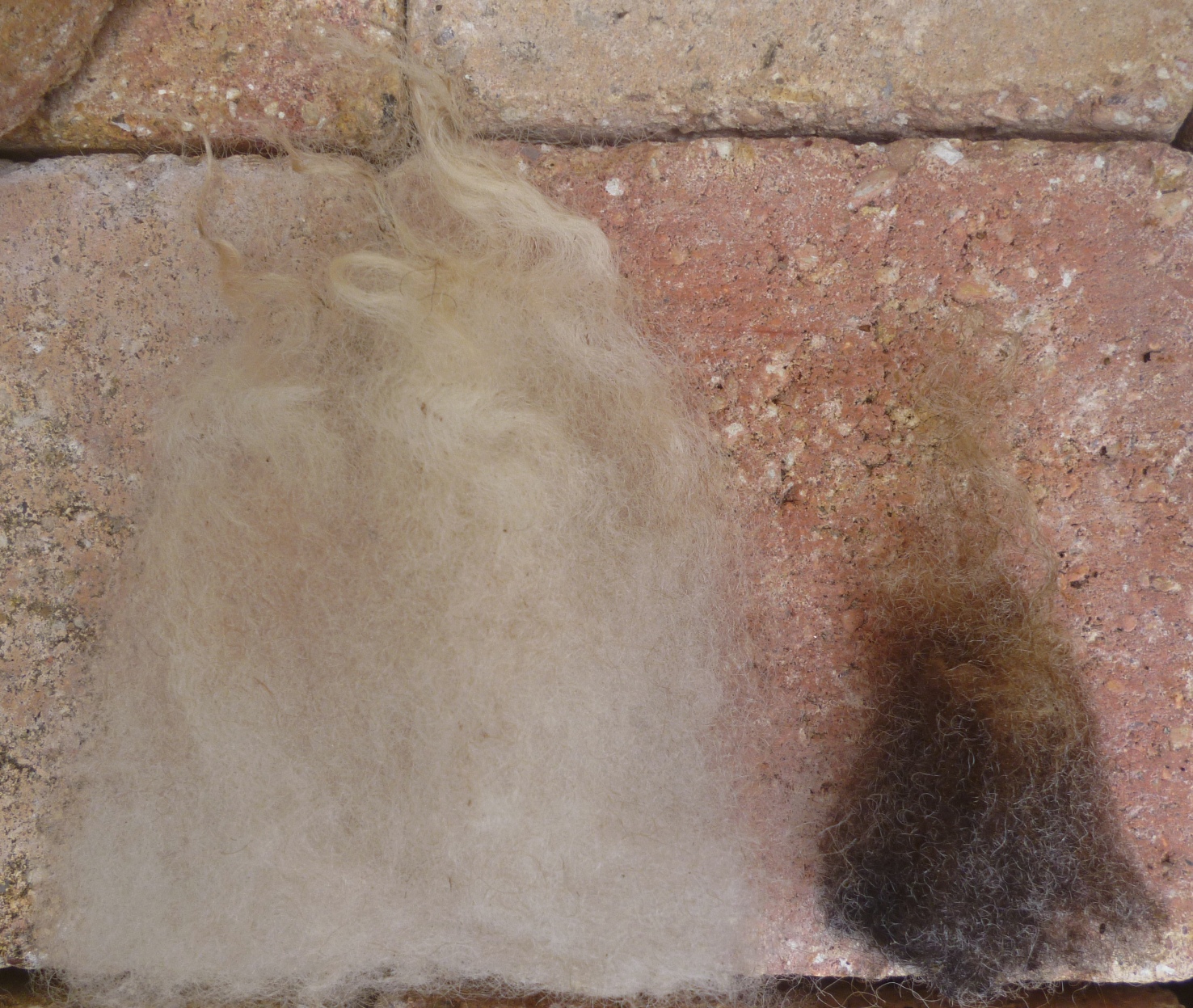 I cannot comb this fleece, as combing requires a staple length of close to 3 inches.
That being said, I want to get rid of any second cuts, vegetable matter and other bits of dirt and debris that is still in the fleece after washing. Additionally, I would like to spin a worsted (or at very least, a semi-worsted) yarn. In other words, this is not a job for hand cards !
To prepare this fiber for spinning, I've decided to use a flicker brush. My flicker brush is from the Howard Brush Company. Of course, I will have to prepare this fleece one lock of wool at a time. But the results are really worth the effort.
You need to hold the lock between your thumb and fingers, then untangle and open up the other end of the lock with the flicker brush. Then you will need to turn around the lock to brush the other end.
Je ne peux pas peigner cette toison, car de préférence il faut de mèches de laine d'au moins 7 ou 8 cm.
Cependant, j'aimerais bien ôter toute recoupe de laine, toute la matière végétale, et toute autre saleté qui y restent. En plus, j'aimerais bien en faire un fils dit "worsted". Alors les cardes à mains ne sont pas l'outil auquel il faut faire appel!
Pour travailler cette petite toison, j'ai opté pour une brosse dite "flicker". La mienne est la brosse flicker du Howard Brush Company. Certes, il faut travailler la toison mèche par mèche, mais ça en vaut la peine.
En tenant un bout de la mèche entre le pouce et les doigts, on démêle et on ouvre l'autre bout de la mèche avec la brosse flicker. Puis, on retourne la mèche pour faire l'autre bout.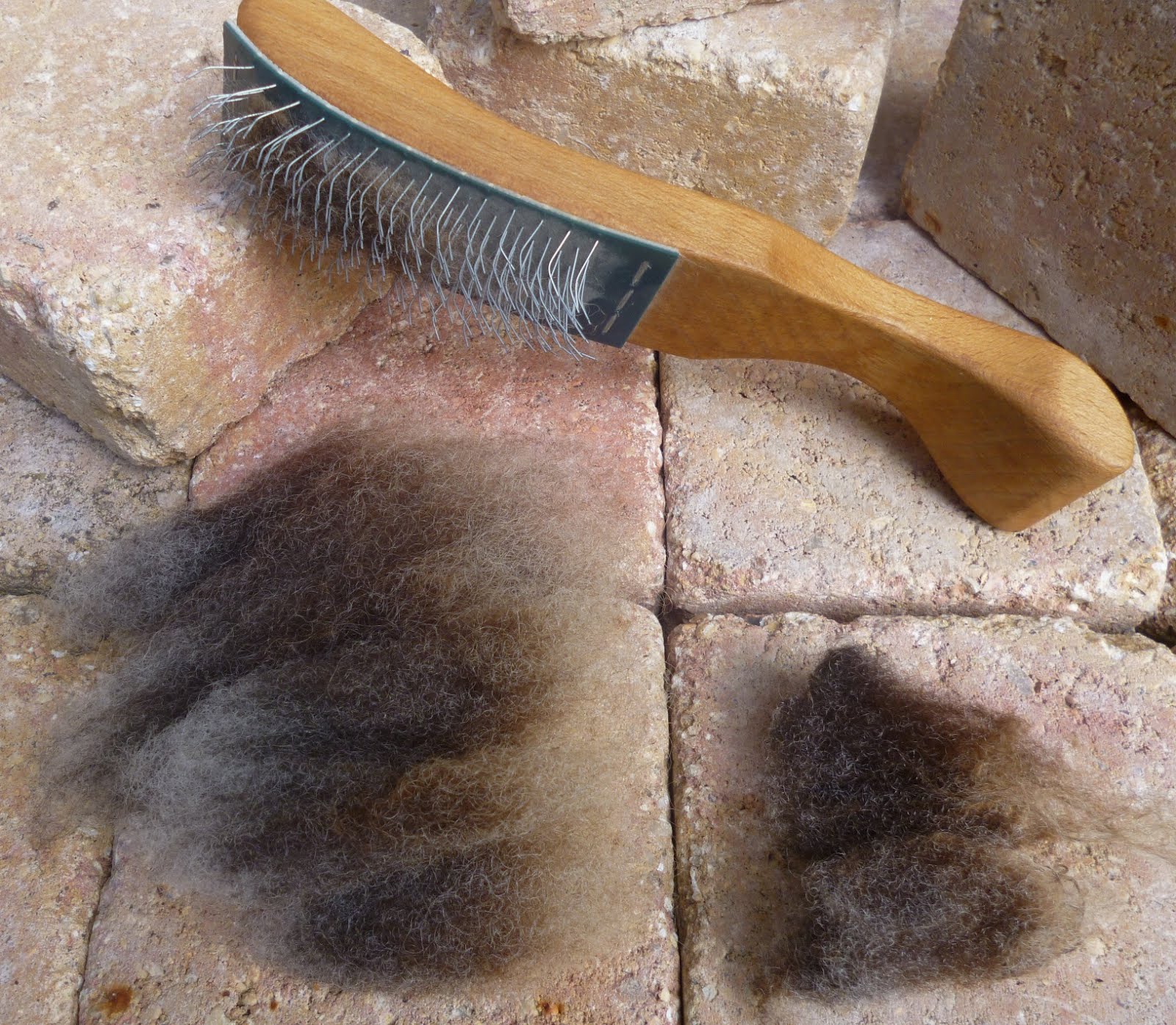 And what a lovely surprise !
By prepping the fiber with a flicker brush, the locks seem to have found a "correct" staple length.
Et quelle belle surprise !
On travaillant la laine de cette façon, les mèches semblent avoir retrouvé une longueur "correcte".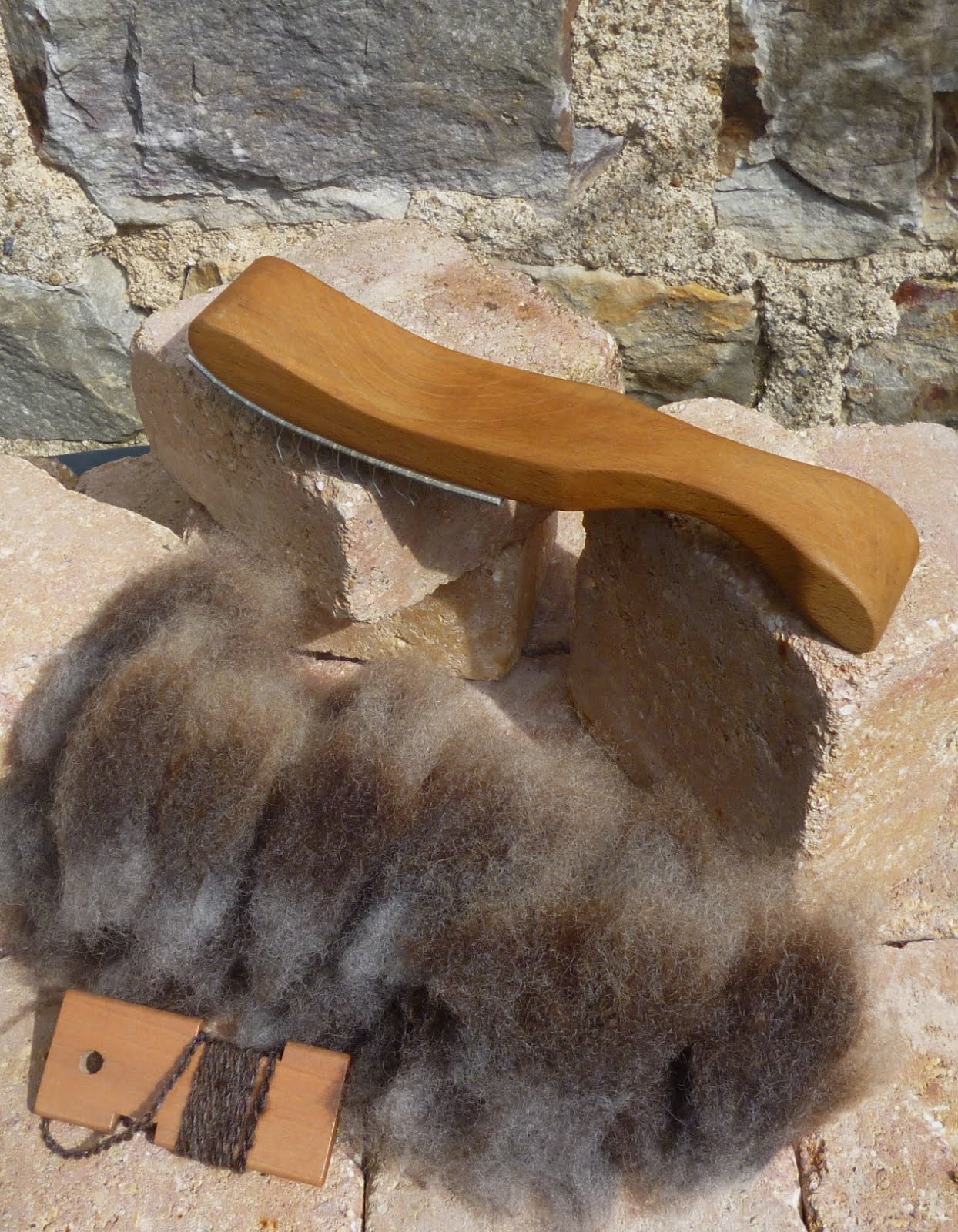 I'm not at all disappointed !
This is truly a gorgeous fleece : a rare little treasure !
… to be continued …
Je ne suis pas déçue !
Elle est vraiment splendide, cette petite toison d'une rare beauté exquise !
… à suivre …
The entire contents of the SpinningShepherd.com © Copyright 2008-2019. 
Text and photographs may not be published, broadcast or redistributed
without the express permission of the author/owner.