For the past 6 months the Spinning Shepherd has been very busy with a big project to export Ouessant Sheep to the UK.
It must be said that this has been a difficult and daunting project.
There is an unbelievable amount of paperwork to fill out.  Then all the vaccinations … the blood tests … customs clearance … transportation ….
In other words, this is not a project for the faint of heart!
One month ago – after many sleepless nights and quite a few headaches – 18 Ouessant ewes and 6 Ouessant rams left my flock in Normandy (France) for a trip across the English Channel.
Depuis plus de 6 mois la Bergère-Filandière s'occupe d'un grand projet d'exportation de Moutons d'Ouessant vers le Royaume-Uni.
Il faut dire qu'un tel projet est vraiment redoutable et très difficile à réaliser.
Il y a une quantité inimaginable de dossiers à remplir.  Ensuite les vaccinations … les prises de sang …le dédouanement … le transport …
Bref, ce n'est pas pour les âmes sensibles !
Il y a un mois – après de nombreuses nuits blanches et de nombreux maux de tête – 18 brebis Ouessant et 6 béliers Ouessant ont quitté mon élevage en Normandie (France) pour un voyage de l'autre côté de la Manche.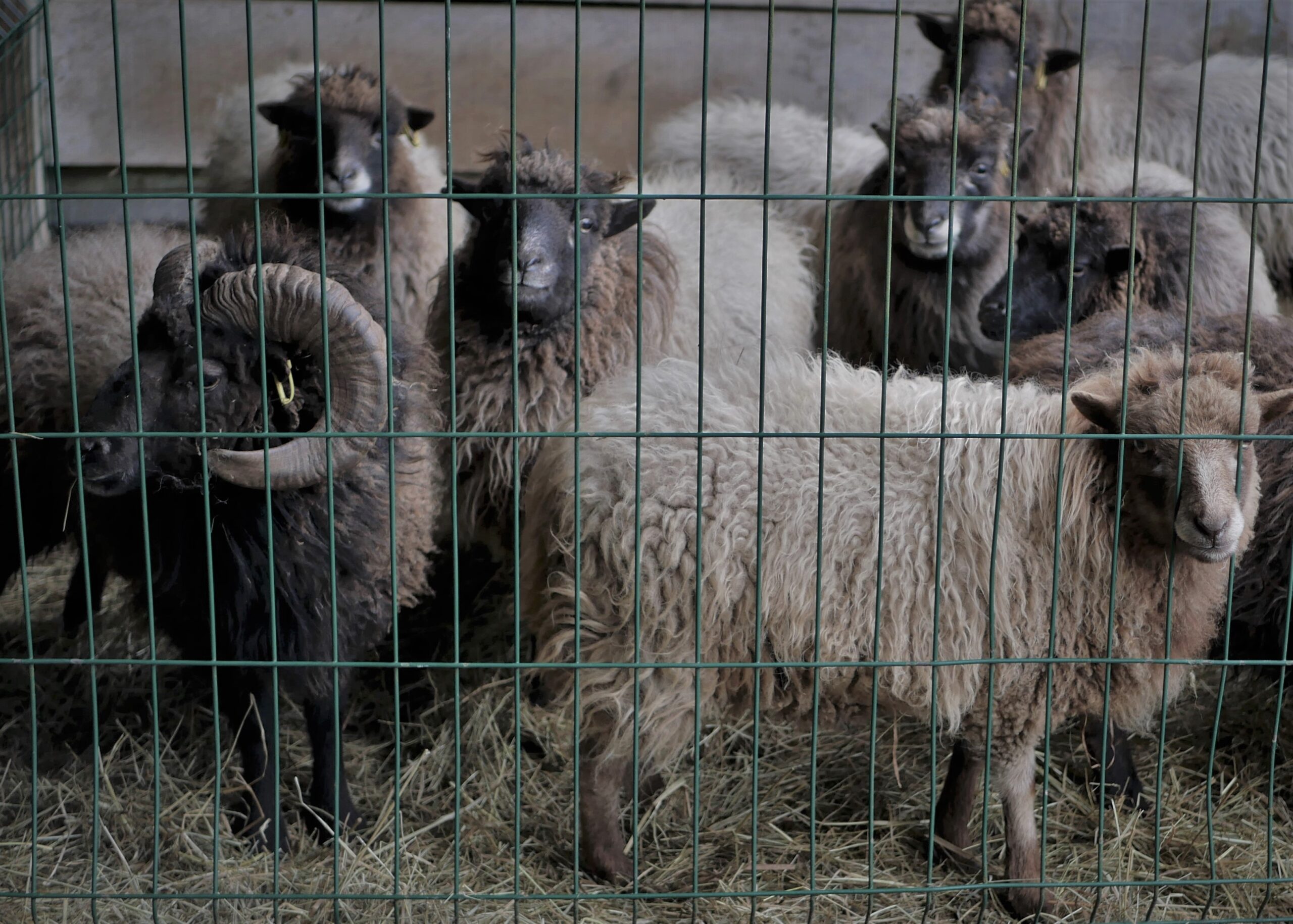 It must be said that this type of project requires the willingness and cooperation of a number of different parties.
First, there needs to be a very motivated buyer/importer who is ready and able to cover the rather hefty costs of such a project. Additionally, they need to contend with the animal health protocols once the sheep arrive in England. In this case, a small group of English Ouessant breeders led by Val Granger, decided to look into the possibilities of importing Ouessant sheep into the UK.
At the same time, an equally motivated breeder/exporter is needed who has the time and energy necessary to ensure the success of such a project. That person would be me!
Also, it is absolutely essential that the breeder's vet is willing to take on an export project with all of the rather complicated administrative steps that are required when exporting live animals to a foreign country. It should be noted that most vets in France are not willing to take on this sort of project. So I owe a big "thank you" to my vet, Dr. Joseph Maissin at the Clinique Vétérinaire du Bocage.  Without his assistance, this project would have never gotten off the ground.
At the same time, we can't forget the role played my Mme Perrin, a technician at the Export Group of the DDETSPP in the Orne, who was in charge of this project at the departmental (regional) level.
Last but not least, it's essential to have a certified professional transporter. Veronica at Yew Tree Horse Transport played a key role in this project. Her professional expertise and thoughtful guidance proved to be absolutely indispensable in the successful outcome of this project.
Il faut signaler que ce genre de projet nécessite la bonne volonté et la coopération de plusieurs acteurs.
D'abord, il faut un acheteur/importateur très motivé qui est prêt à assumer l'ensemble de frais importants engendré par un tel projet, ainsi que l'ensemble de protocoles sanitaires quand les moutons arrivent en Angleterre. Dans ce cas, un petit groupe d'éleveurs anglais mené par Val Granger se sont engagés cette aventure.
En même temps, il faut un éleveur/exportateur très motivé qui est prêt à investir du temps et de l'énergie pour assurer la réussite du projet. Ça c'était moi !
D'autre part, il faut que l'éleveur ait un vétérinaire qui est disposé à faire l'ensemble de démarches administratives requises pour l'exportation d'animaux vivants vers l'étranger. Il faut noter que la plupart des vétérinaires en France ne sont pas prêts à se lancer dans ce genre d'aventure.  Alors, un grand merci à mon vétérinaire, Dr. Joseph Maissin de la Clinique Vétérinaire du Bocage.  Sans lui, ce projet n'aurait jamais pu aboutir.
Parallèlement, il ne faut pas oublier le rôle joué par Mme Perrin, Technicienne de Cellule Export de la DDETSPP de l'Orne qui s'occupait du dossier au niveau départemental.
Enfin et surtout, il faut un transporteur. Veronica de Yew Tree Horse Transport jouait un rôle essential dans ce projet.  Son expertise et ses conseils étaient indispensables pour mener à bien ce projet.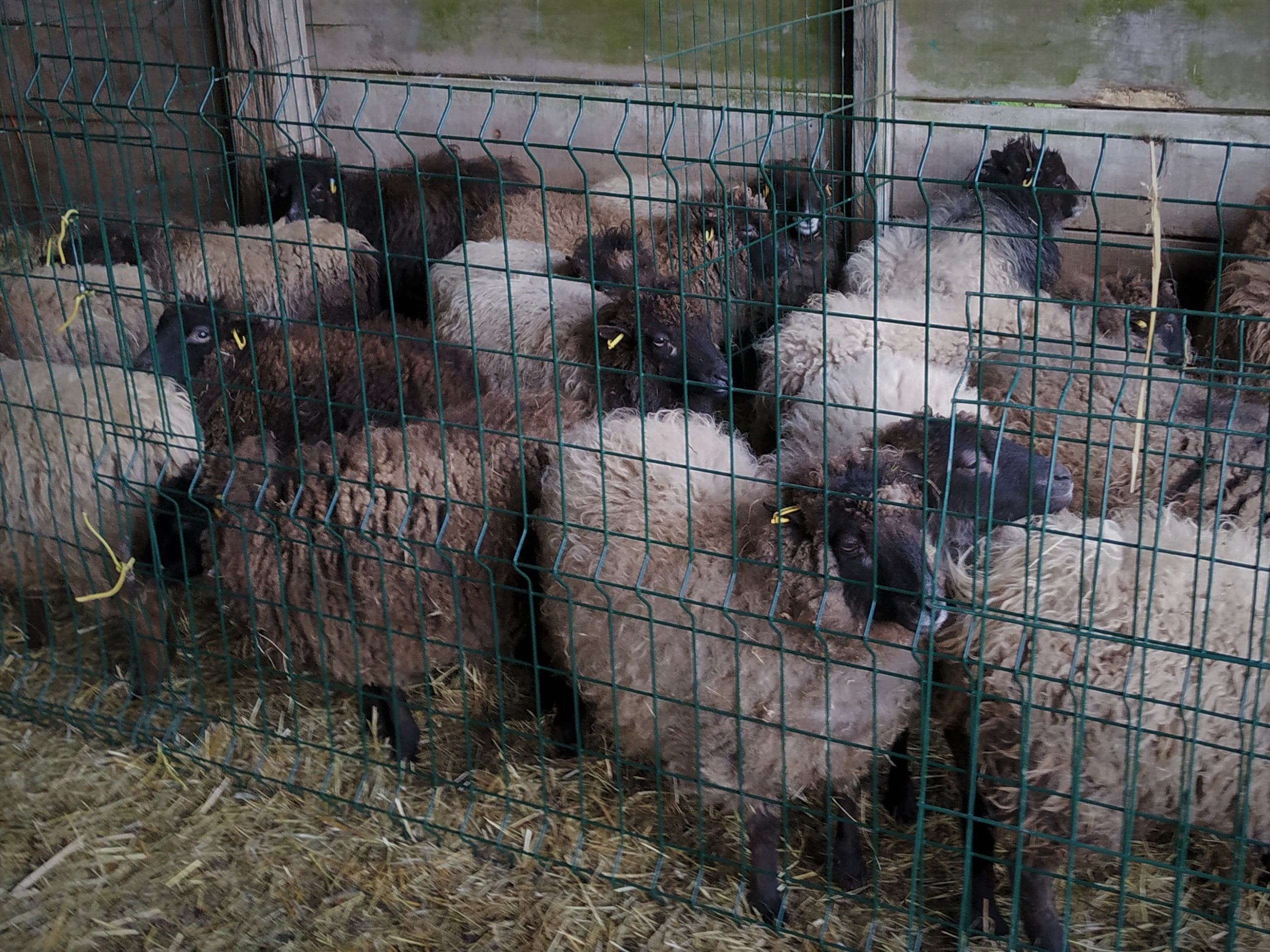 On March 21 at 8 in the morning, 24 beautiful little Ouessant sheep are waiting for their last vet visit, this time for their Health Inspection just before leaving France.
Le 21 mars à 8 h du matin, 24 jolis petits moutons attendent la dernière visite du vétérinaire, cette fois-ci pour l'Inspection de Santé avant de quitter la France.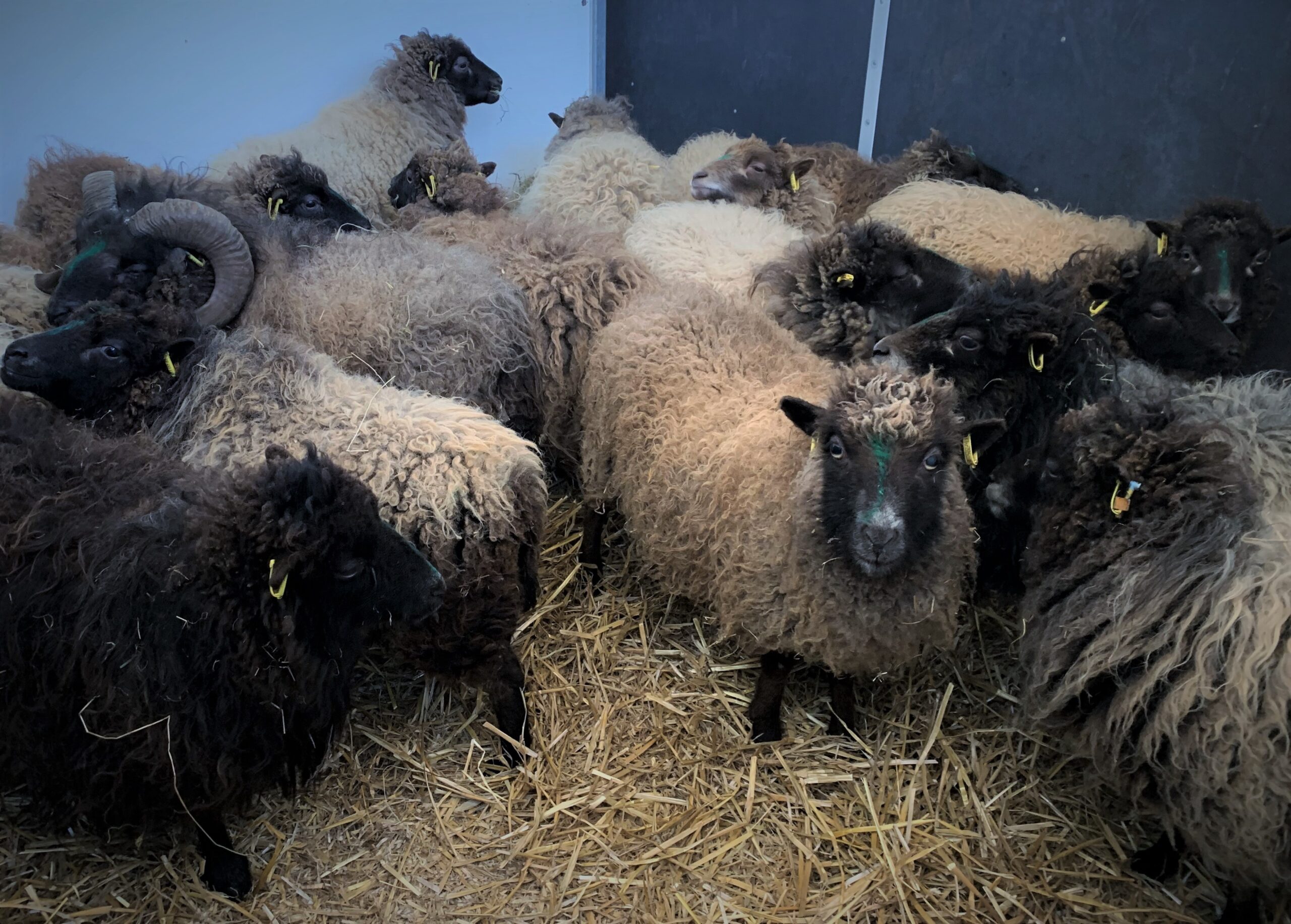 A few hours later, the sheep are loaded into a spacious certified trailer for a ferry trip across the channel.
The ferry leaves the port at the end of the afternoon and the sheep arrive at their destination in England at 6 in the morning on March 22.
Everyone arrived safe and sound.  All of the sheep will be quarantined at Val's farm for 30 days before they go on to their new shepherds.
Quelques heures plus tard, les moutons sont chargés dans un camion agréé de luxe pour un petit voyage par car-ferry !
Le car-ferry quitte le port à la fin de l'après-midi et les moutons arrivent à leur destination en Angleterre à 6 heures du matin le 22 mars.
Tout le monde est arrivé, sain et sauf.  L'ensemble de moutons reste 30 jours en quarantaine chez Val, avant d'aller chez leurs nouveaux bergers.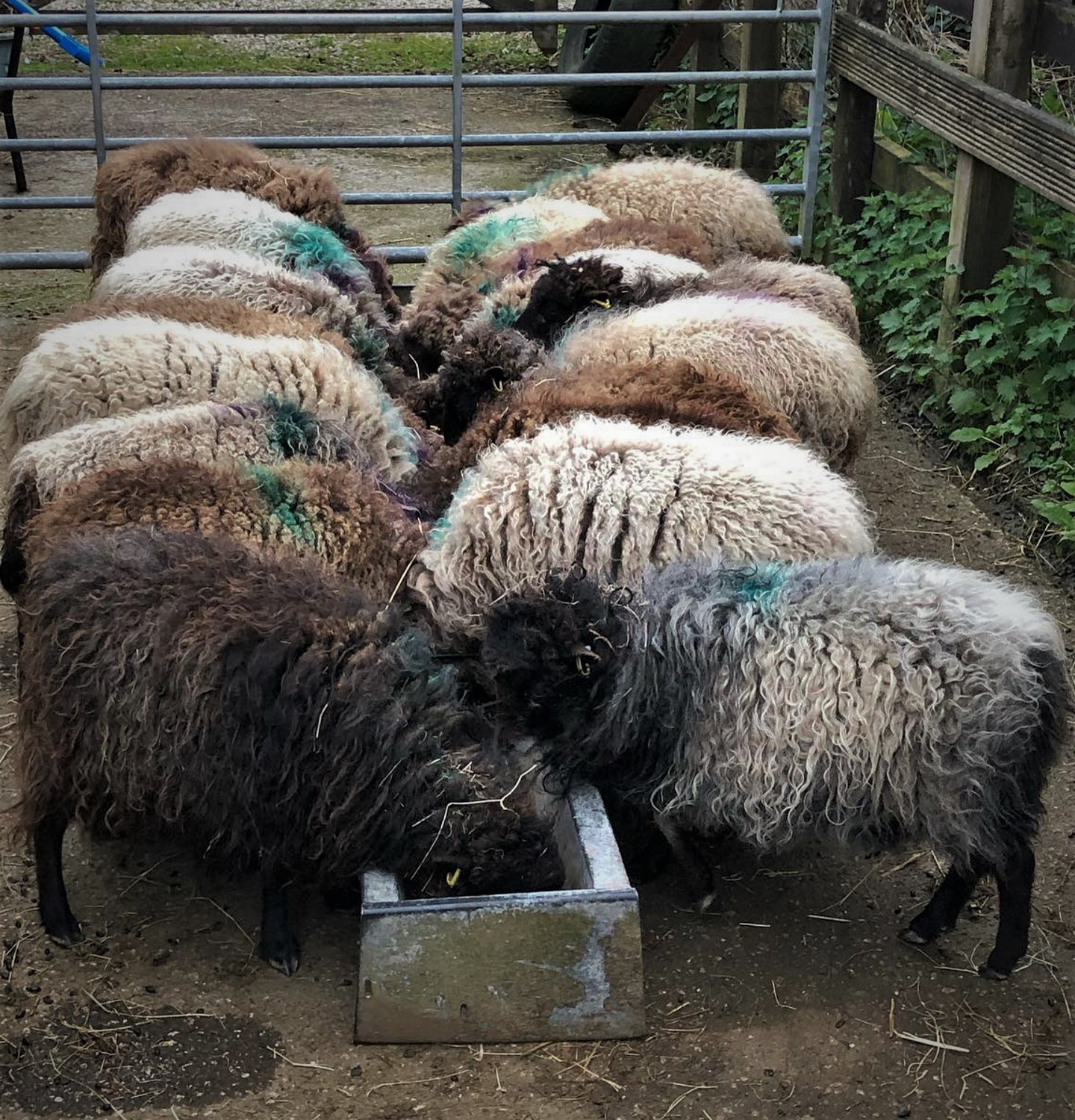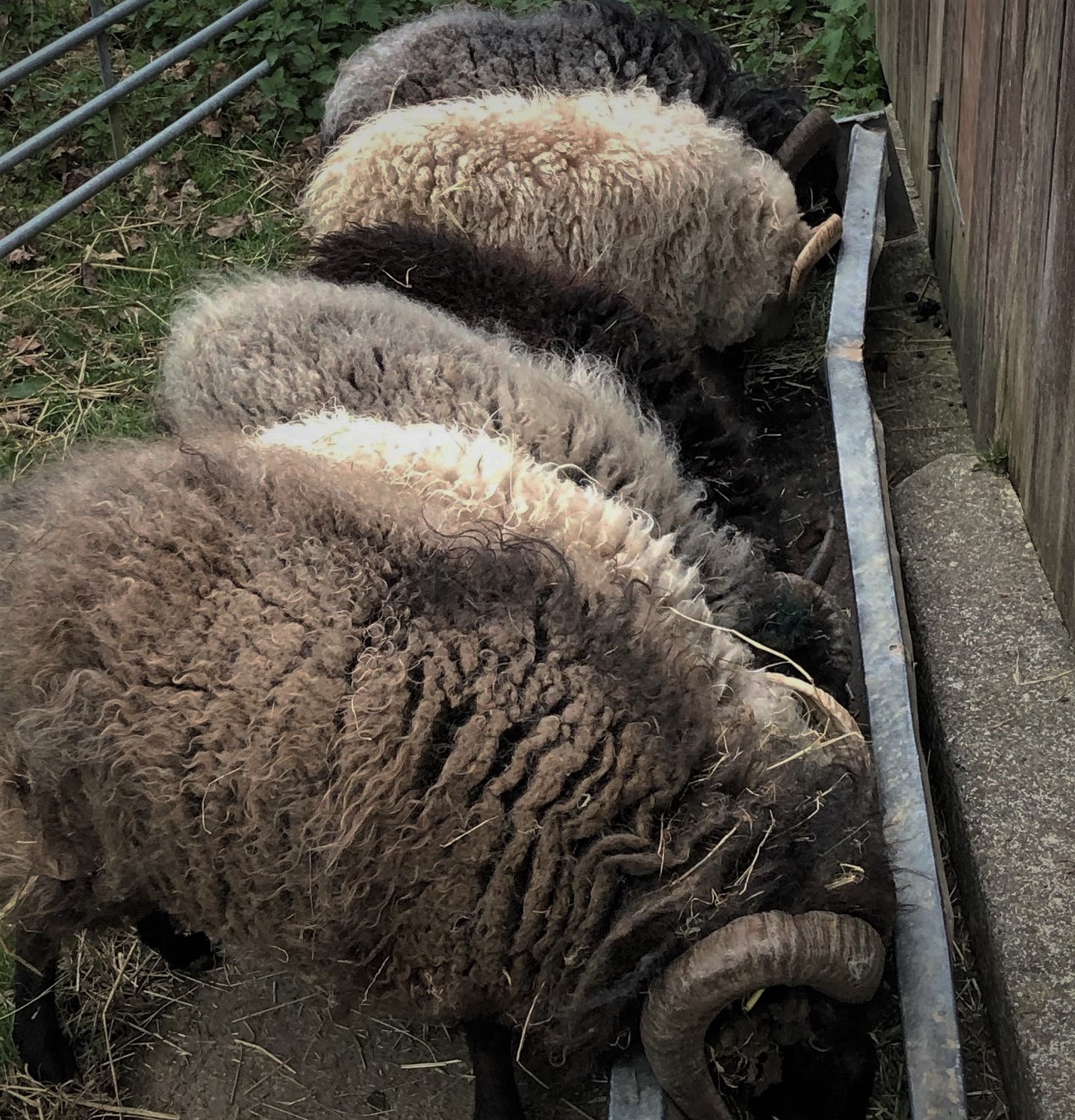 I hope that their new shepherds will love them as much as I do !
J'espère que leurs nouveaux bergers les aimeront autant que moi !
The entire contents of the SpinningShepherd.com © Copyright 2008-2022. 
Text and photographs may not be published, broadcast or redistributed
without the express permission of the author/owner.