De la Toison au Tricot n° 103 : Filer à partir de la mèche

A few years ago I talked a little bit about spinning from the lock.
Basically, if we want to spin wool it is important to prepare the wool before spinning, either by carding or combing the wool. The goal of both carding and combing is to untangle the wool and to line up the fibers.
However, if we are careful when skirting and washing a fleece, we can keep the lock structure of the fleece intact. For example, here are a few locks from the fleece of Cannelle des Lutins du Montana.
Il y a plusieurs années je vous ai parlé d'une technique de filage à partir de la mèche.
Effectivement, quand nous travaillons la laine, il faut préparer la laine avant de la filer : soit avec les cardes à mains, soit avec les peignes à laine. Le cardage et le peignage consistent à démêler et à aligner les fibres de la laine pour faciliter le filage.
Pourtant, si nous faisons attention lors du tri et du lavage de la laine, nous pouvons assurer que les mèches de la toison restent intactes. Par exemple, voilà quelques mèches de la toison de Cannelle des Lutins du Montana.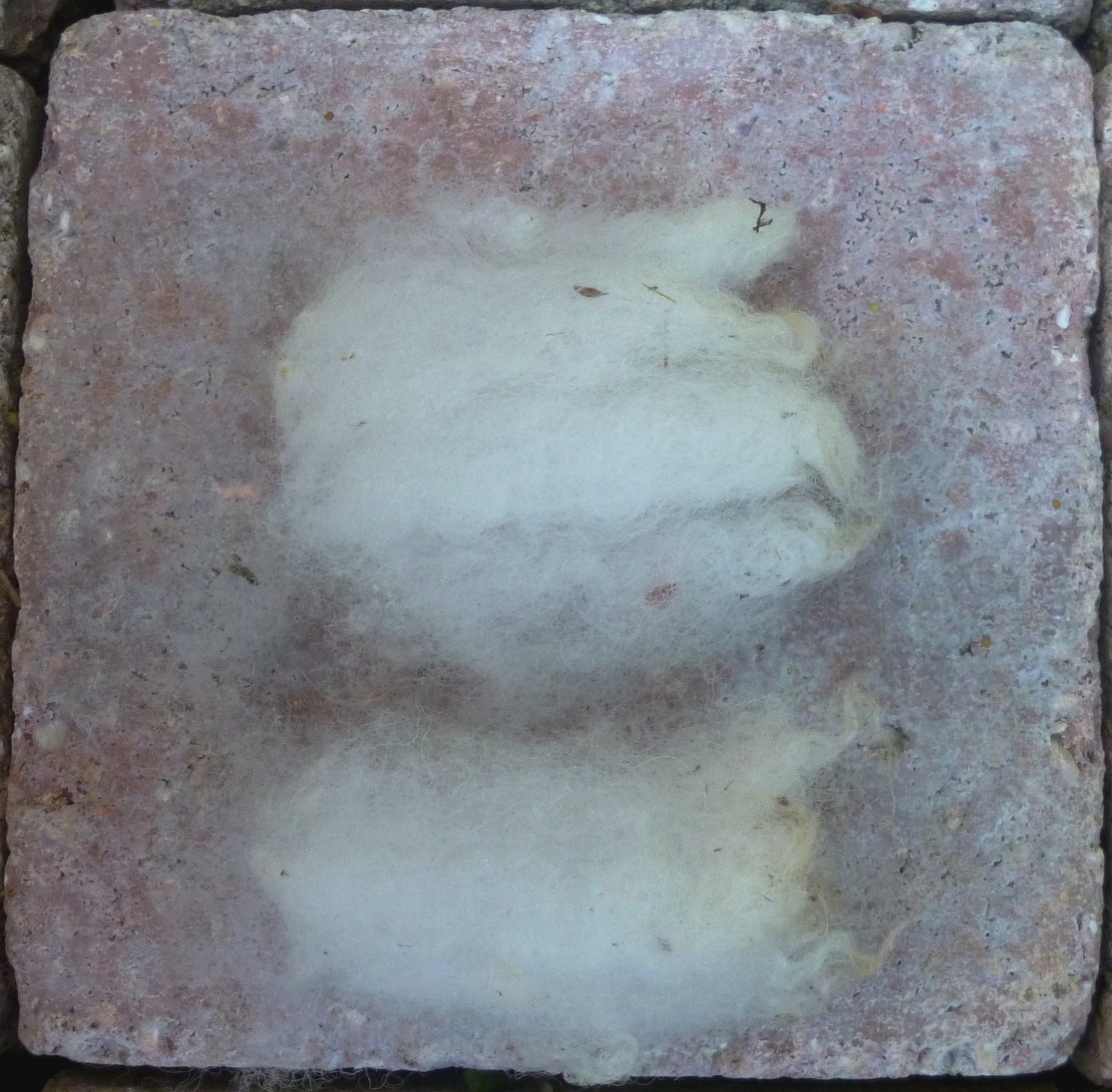 These washed and dried locks are made up of perfectly lined up fibers.
As Margaret Stove explains in her DVD, Spinning for Lace (Interweave Press, 2010), we can spin this lock of wool as is ; or, if necessary, we can untangle the tips of the lock with a small flicker card.
Ces mèches lavées et séchées comprennent des fibres de laine parfaitement bien alignées.
Comme le préconise Margaret Stove dans son DVD, Spinning for Lace (Interweave Press, 2010), nous pouvons filer cette mèche telle qu'elle est ; ou, si besoin est, nous pouvons démêler les points de la mèche avec une petite brosse.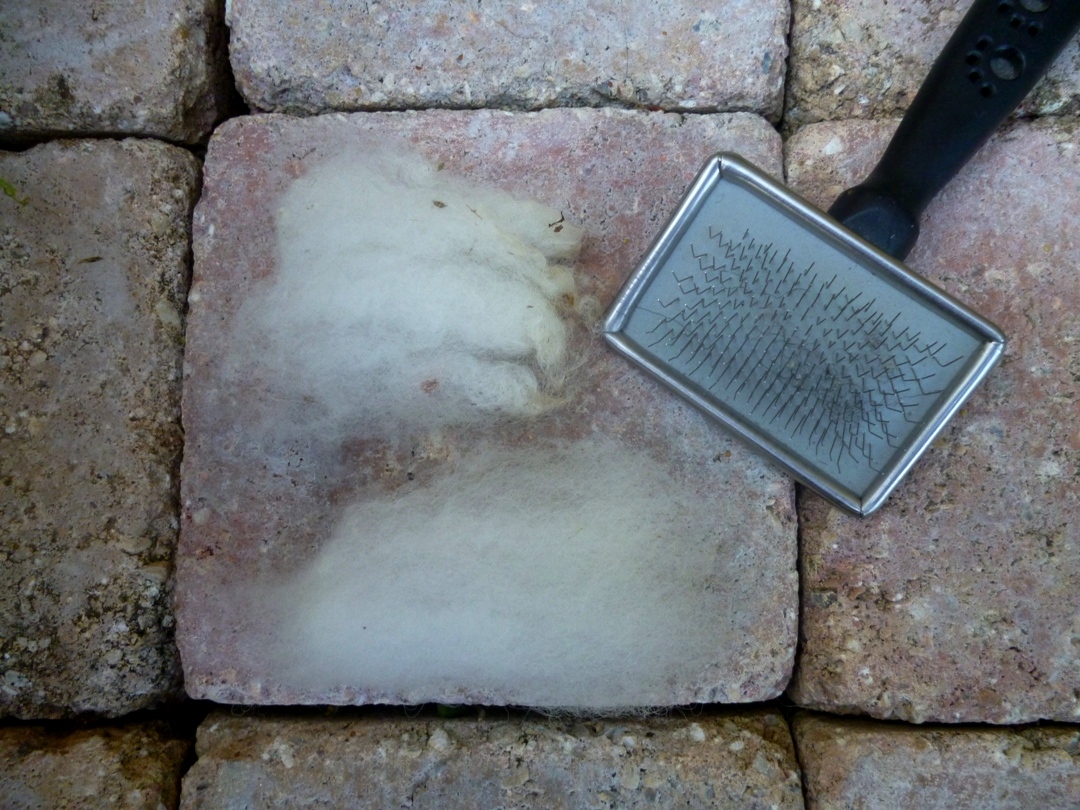 However, it's important to start out with a fleece that has little, if any, vegetable matter. If a fleece is nice and clean, like Praline's, we can spin directly from the lock without any other type of fiber prep.
Toutefois, il faut commencer avec une toison dépourvue de matière végétale. Si la toison est bien propre, comme celle de Praline, nous pouvons filer directement de la mèche sans aucune préparation particulière.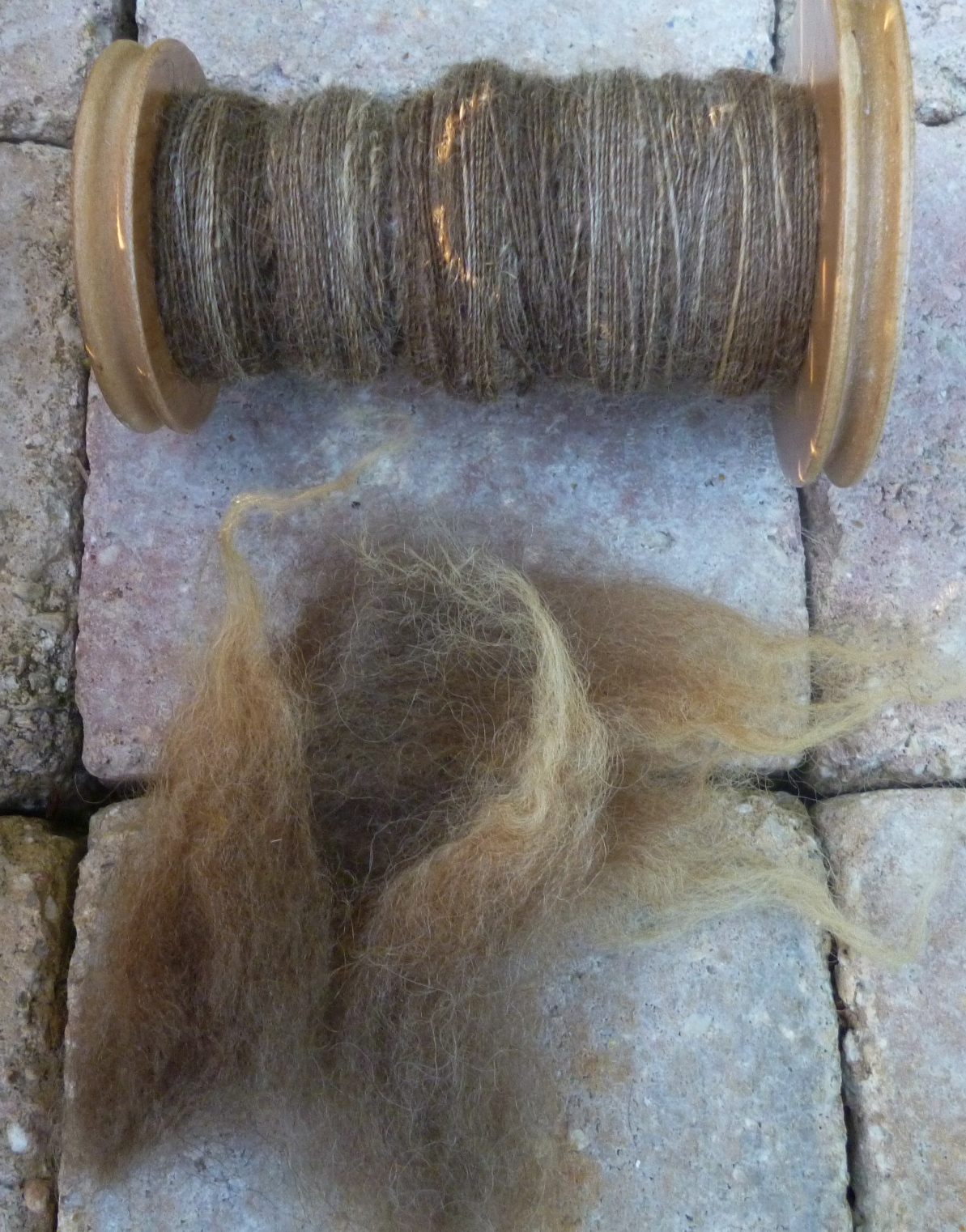 Yes ! This really does work !
You can spin a beautiful, fine yarn using this technique.
Just remember : you need to start out with a clean, high quality fleece.
Et oui. Ça marche à merveille !
Vous pouvez filer une belle laine, bien fine, en utilisant cette méthode.
Mais attention : une toison de qualité s'impose.
The entire contents of the SpinningShepherd.com © Copyright 2008-2019. 
Text and photographs may not be published, broadcast or redistributed
without the express permission of the author/owner.